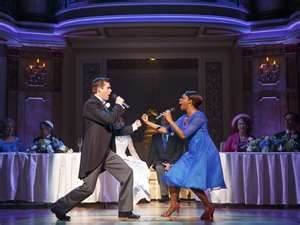 It Shoulda Been You is a musical comedy that has a lot going for it. Directed by David Hyde Pierce, this musical about a Jewish and Catholic wedding that goes off the tracks and desperately tries to find a happy ending. (By the way, it does; it is a musical comedy after all.) It Shoulda Been You is a true audience pleaser. It is a true remedy for bad mood, the blues, crankiness, or any lack of luster or laughter in anyone's life.
Great Jokes, Wonderful Characters & Winning Actors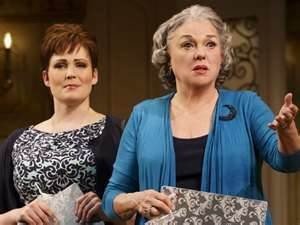 This 100-minute comedy, which has about 200 to 250 laughs, offers theatregoers a new look at the subgenre of wedding farce, and carries its wacky and ridiculous plot twists, complications, and characters to the penultimate brink of ludicrousness. Everything is played to the hilt, making It Shoulda Been You a comedic romp of an evening, filled with high energy, smart and some not-so-smart gags, and genuine feelings of love and care.
A seasoned and adroit Broadway cast has been enlisted and includes Tony winners Tyne Daly (Mothers and Sons, Gypsy) and Harriet Harris (Thoroughly Modern Millie). Joining them are Broadway vets David Burtka (Gypsy), Sierra Boggess (The Phantom of the Opera), Lisa Howard (Priscilla Queen of the Desert), Edward Hibbert (Curtains), Montego Glover (Memphis), Josh Grisetti (Peter and the Starcatcher), Michael X. Martin (The Bridges of Madison County), Anne L. Nathan (Once), Nick Spangler (Book of Mormon), and Chip Zien (Into the Woods). This group handles the material with aplomb.
The show has a book and lyrics by Brian Hargrove, with music by Barbara Anselmi, who conceived the show, and additional lyrics by Jill Abramovitz, Carla Rose Fisher, Michael Cooper, Ernie Lijoi and Will Randall. The team has created a screwball musical comedy that defines screwball musical comedy.
Reviews Are In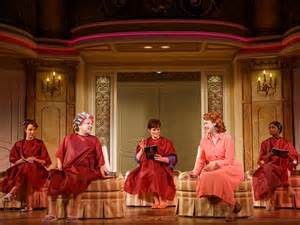 USA Today's Elysa Gardner enthusiastically observed, "…this new musical, this Broadway season's freshest and funniest to date, defies skepticism, both in its wacky humor and its big, buoyant heart. Book writer and lyricist Brian Hargrove and composer Barbara Anselmi have taken a familiar premise — that of lovers from different backgrounds uniting — and crafted something that is both endearingly old-fashioned in spirit and decidedly contemporary in execution.
Hollywood Reporter reviewer Frank Scheck put It Shoulda Been You in historical and comedic context when he noted, "That old popular-comedy chestnut Abie's Irish Rose is given a modern twist in the new musical It Shoulda Been You, which plays like vintage dinner theater infused with a Borscht Belt sensibility. That it nonetheless manages to be truly amusing is a testament to the talent both on and offstage: such comic pros as Tyne Daly, Harriet Harris and Edward Hibbert manage to make the hoariest of jokes uproarious, while director David Hyde Pierce has staged the proceedings with a brisk expertise that makes the 100 intermission-less minutes fly by. It's the sort of show that practically redefines the term 'guilty pleasure.'"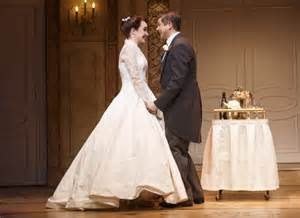 Chris Jones of the Chicago Tribune offered some insightful comments when he wrote, "The aim here, for sure, was an updating of the standard wedding farce, and so achieved, given the various eleventh-hour arrivals of courage and a remarkably fluid set of sexual orientations that allow for a fresh mix-and-matching of couples. Still, there is something cheering about the arrival of gay marriage in traditional farce, that most conservative of theatrical genres, in a show designed mostly to play to those who would not have been on the vanguard of such change.
"It is in such moments that societal change is most palpable, but still, the main reason to admire 'Shoulda' is the frequency, quirkiness and heartiness of the laughs."
A Time to Laugh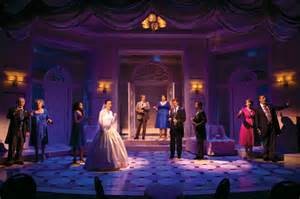 It Shoulda Been You offers audiences a time to let go and laugh, full and hearty. It's a freeing experience and one from which all of us can benefit. Along with low group rates, All Tickets, Inc. is also running its Best Broadway Group Comp Deal. Take advantage of this special promotion, which ends August 31, 2015, and get free tickets (1 for every 30 paid; or, if purchasing another service from us, 1 for every 25 paid) as well a generous group discount. It Shoulda Been You is a must-see musical comedy. Call us today at 1-800-922-0716. Book before August 31 to qualify for comp tickets.