December 6th marked the official opening date of School of Rock on Broadway! Based on the 2003 film starring Jack Black, this musical tells the story of a down-and-out amateur rock musician in search of a new band and some easy money to pay the bills.The rocker, Dewey Finn, under the alias of a certified teacher friend, becomes a long-term substitute at an uptight private school, and finds his head-banging band in his class. Dewey ultimately teaches the students about who they are through musical discovery.
Musical Influence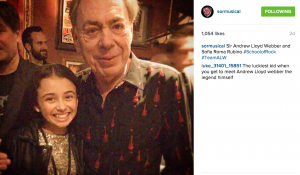 One of the most interesting elements of this production is that Andrew Lloyd Webber wrote and arranged the music. The style, much different from his Phantom of the Opera or even Jesus Christ Superstar days, focuses much more on the musical influences discussed in the film that Dewey uses as "teaching moments:" ACDC, Led Zeppelin, Rob Zombie, Stevie Nicks, Aretha Franklin, and many more. Webber focused his writing on the children, as did the book writer, who focused their story-telling angle on the kids defining themselves through the music. While Dewey's discovery that he is a stronger man is an important element, the School of Rock creative team decided to focus on the character development of the kids.
School of Rock Kids Rocking Social Media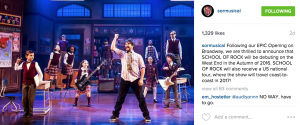 Besides the fact that the creative team has focused itself on the musical kid experience and the show, the marketing team has also done the same. If you follow @SORMUSICAL on Instagram, you'll see an amalgam of celebrity photos from opening mixed among videos highlighting the kids' experience behind the scenes, going to parties, and being introduced at functions. The marketing for this show has idealized the experience of kids being Broadway stars and added the extra value of rock 'n roll life since they're all always dressed like rock stars on the road. It's sure to be a spectacularly energized show based on the excitement the kids exhibit in their social media stories!
Group Sales from All Tickets Inc.
Don't forget that All Tickets, Inc. includes comp tickets to groups who use our services when ordering their Broadway tickets! Get the same low prices as you would from the theatre's group sales office, plus receive free tickets from All Tickets, Inc. We also have great deals on hotels, tours, dining, museums, and much more. Contact us today and save by calling 1-800-922-0716.