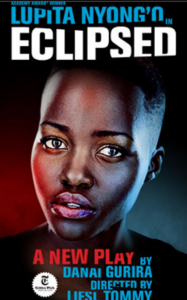 At the onset of the New Year, Theatermania posted a quiz promoting new shows called: "Which Show Should Be Your First of 2016?" Being an avid consumer of BuzzFeed videos of the like, I took a shot at it. Expecting to see an answer like Tuck Everlasting, instead I got a different show that is also premiering in March called Eclipsed. Curious about this production, I checked my sources that expect this show to leave audiences discussing its subject matter for a long time after the theatre experience.
Woman Power on Broadway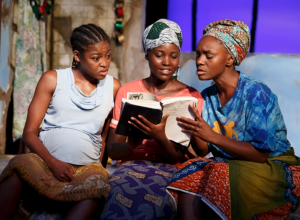 The show is written by Danai Gurira who is well known as Michonne from The Walking Dead and was born in Zimbabwe. Eclipsed tells the tale of a group of Liberian women who look for strength in community during the upheaval of their homeland. In looking at the Broadway-made webpage for the production, your downward scroll is followed by the face of Lupita Nyong'o, continually reminding you that this Academy Award winner is a member of the show's cast.
The 12 Years a Slave star plays a character named "The Girl" in this production while all of the other women are given legitimate names. The production also markets itself as "a stirring tale of hope, humor, and resilience- and the only new play by a woman on Broadway this season."

Early Reviews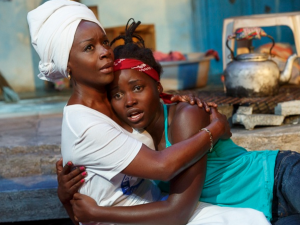 By consulting Broadwayworld's Review Round-up, much has been learned about the production that premiered for a short time at The Public Theatre from October 14th to November 29th. One of the most interesting and telling reviews came from USA Today: "The five characters in this play, all female, compel our attention equally, as do the vibrant, nuanced performances delivered under Liesl Tommy's muscular but tender direction. The Girl evolves the most, allowing Nyong'o to show more range than she did in her Oscar-winning turn. When we meet her, shortly after she has been kidnapped, she seems as artless as she is frightened…We soon learn, however, that The Girl can read…and lets Nyong'o reveal glimmers of passion and cunning in her character. But The Girl is still malleable, and desperate…As The Girl, under Maima's sway, is persuaded to become a fighter herself; Nyong'o shows us to devastating effect how she is transformed
(at least nearly) through terror and denial." Other reviewers from the New York Times, Variety, and The Post gave similar praise to the short run of the performance back in the fall.
If you're looking for a show that will challenge your mind, open your heart, and leave you talking well after the curtain has closed, this could be the show for you this year. However, if you have gotten a different response on your Theatermania quiz taking, we want to know what it is! Let us know on the All Tickets Facebook page!