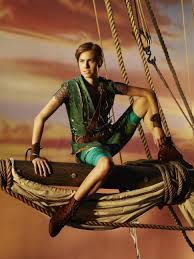 Banking on the popularity of their recent live telecast of The Sound of Music, NBC will air a live version of the Broadway musical Peter Pan. Based on the play by Sir James M. Barrie, the musical first premiered on Broadway in 1954. Since its Broadway premiere, it has been produced three times on television (1955, 1956, and 1960), with each version starring the original Peter Pan, Mary Martin. There have been three Broadway revivals, 1979 starring Sandy Duncan and 1991 and 1998 starring Cathy Rigby. The Rigby productions have also been remounted on Broadway.
Original Musical
The play Peter Pan, which Barrie wrote on 1904, was a huge hit. The musical also became massively popular. With music by Jule Styne, Mark Charlap, and Trude Rittmann (dance arrangements), lyrics by Betty Comden, Adolph Green, and Carolyn Leigh and the book a recounting of the original by Barrie, Peter Pan became an instant family-friendly event.
The musical opened on October 20, 1954, at the Winter Garden Theatre in New York for a limited run of 152 performances. The limited run was due to the fact that the production had been sold to NBC, ensuring its financial success despite the small number of Broadway performances. Its last performance occurred on February 26, 1955. It won three Tonys that year, with Mary Martin (Peter Pan) winning for Best Performance by a Leading Actress in a Musical and Cyril Ritchard (Captain Hook) winning for Best Performance by a Featured Actor in a Musical.
Live Tonight
Although many people know actor Christopher Walken for the many psychotic characters that he has played in various films, when the actor first started in the business he was a dancer and a singer. No stranger to musicals or playing dastardly characters, Walken should be right at home as Captain Hook, who is, after all, "the the swiniest swine in world [and]… the dirtiest dog in this wonderful world."

A behind the scenes look at Peter Pan from ENT.
Playing the ultimate boy who will never grow up is Allison Williams. Williams, who is the daughter of NBC Nightly News anchor Brian Williams and TV producer Jane Gillan Stoddard, is best known for her role of Marnie Michaels in the HBO series Girls. Williams is an actress, comedian, and musician, and she acknowledges that one of the reasons she accepted the role was to change her public image as a performer.
Peter Panization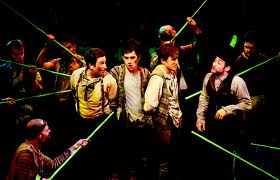 Lately, New York has had a fascination with Peter Pan. In recent years, Cathy Rigby has returned to play the role during the Christmas season, and Peter and the Starcatcher, the story of how Peter Pan became the boy who would never grow up, was a hit both on and off Broadway. It won 5 Tonys in 2013 and is touring the U.S. starting in January 2015. The 2014-2015 Broadway theatre season will feature the new musical entitled Finding Neverland, which focuses on how author J.M. Barrie found his inspiration to create Peter Pan. It was recently produced at the American Repertory Theatre in Cambridge, MA.
Watching Peter Pan Tonight

Walken on Fallon talking about the production.
Tonight's show is live, which means there are no retakes. This is a one-shot deal and as close to a stage production as TV can get. A throwback to the early days of TV, which included productions of classic dramas such as Ibsen's A Doll's House and musicals like Peter Pan and Cinderella, there's sure to be a raw energy tonight when this production premieres on NBC at 8 p.m.