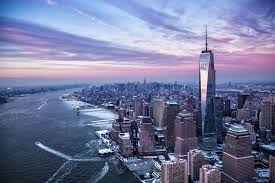 One is a symbol of our intrepid spirit and determination as it rises above Manhattan and all of North America, while the other offers remembrance of sacrifice and a testament to a tragedy unlike any other the United States has ever experienced. Visiting both will provide you with two very different views of New York City, its history, and its future. They are One World Trade Center Freedom Tower and the 9/11 Memorial and Museum
Big and Booming
One World Trade Center Freedom Tower, which at 104 stories (1,776 feet) is the tallest building in North American, is a magnificent structure both inside and out. It shoots out from its Manhattan base to loom above a city that sits on a tiny island that has more skyscrapers and hulking buildings per square mile than any other place on Earth. Yet, despite all of the competition for grandness around it, there is nothing grander in NYC than One World Trade Center.
TAKE THE TOUR from One World Observatory on Vimeo.
Designed by David M. Childs of Skidmore, Owings & Merrill, the 3-million-square-foot building includes plenty of attractive and state-of-the-art office space, breathtaking views from its towering observation deck and world-class dining establishments. Upon entering the 104-story building, you're greeted by a grand lobby that immediately sets the tone and style for this majestic structure.
Contact All Tickets Inc. to book your group's visit to experience the amazing views from the observation deck of America's newest and tallest landmark.
9/11 Memorial and Museum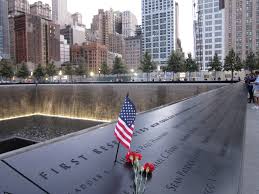 The 9/11 Memorial and Museum offers groups an emotional experience that will revive memories for some, offer historical reference for others, and enlighten all. The 9/11 Memorial is a place for contemplation, reverence, and solemn remembrance. It is a beautiful tribute that honors those who lost their lives on that day.
The 9/11 Museum will give you a range of perspectives on the tragedy. You'll learn about the destruction, the bravery, the loss, and the resilience that define this moment in our history. Although the Memorial is open to groups and individuals and requires no reservation, the Museum does require group reservations. All Tickets Inc. can secure your group's reservation to visit the 9/11 Museum.
A City of Landmarks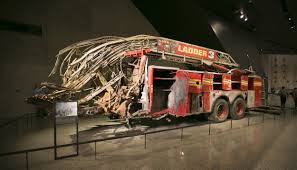 Although Manhattan is a total of 33.77 square miles, 10.81 square miles are water, leaving just 22.96 square miles of land. Still, Manhattan is brimming with landmarks and special attractions, including Times Square, the Empire State Building, Rockefeller Center, Radio City Music Hall, Central Park, The Apollo Theatre, and Broadway (to mention just a few). If your group is traveling to New York for a day, a weekend, a week or longer, All Tickets Inc. can book you into anything and everything New York. Contact us at 1-800-922-0716 for more information on visiting New York City.