One World Observatory sits atop One World Trade Center, the tallest building in the Western Hemisphere, offering visitors the opportunity to enjoy breathtaking, panoramic views of the sites and landmarks, the waterways, and the skyline that define New York City. The 360-degree walkway and three-story observatory are accessed from below in less than 60 seconds. When it opens in spring 2015 One World Observatory will become New York's most sought-after travel experience.
One of 2015's Top Destinations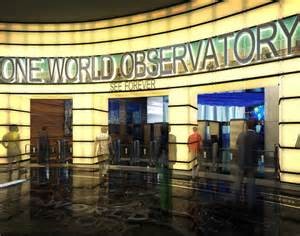 One World Observatory has already earned a distinction as one of the hottest, new travel experiences on Earth. Lonely Planet has included the observatory in its New in Travel e-book.
Of One World Observatory, the editors at Lonely Planet noted, "One of the most anticipated openings of 2015 is the launch of the observation deck at the mighty One World Trade Center. When the steel spire was added to the building on 10 May 2013, the skyscraper reached its final defiant height of 1776-ft; a measure that pointedly makes reference to the year the United States Declaration of Independence was signed. It is now the tallest building in the western hemisphere (think six Statues of Liberty stacked end to end)."
Once You Enter the Building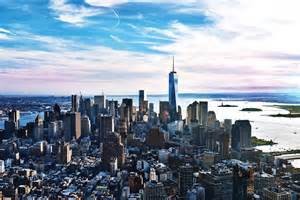 The One World Observatory experience is designed to start as soon as you enter the lobby. Prior to taking express glass elevators to the top, you'll learn about the planning and construction of the entire building, and be given some very impressive stats and specs concerning the building. Once on top, you'll tower 1,250-feet above the city where you'll not only enjoy unbelievable views of Manhattan and beyond, but also shops, dining, and special features and events.
Order Group Tickets Now
Order your group tickets to One World Observatory now. This will be an extremely popular experience that will be very difficult for your group to book as the opening draws closer. The professional and courteous group sales agents at All Tickets Inc. will be glad to take your order, coordinate this group experience with other events your group will enjoy while visiting New York, and help ensure that everything goes perfectly during your visit.
Plus, we can arrange:
Maritime experiences
Broadway group educational encounters with Stage Door Connections
Visits to museums, landmarks, and national sites
Hotel and meal reservations
Broadway and Off-Broadway tickets
Backstage tours
And much more!
Contact All Tickets Inc. today for more information on the extraordinary One World Observatory experience. You may reach us by clicking on this link or calling toll-free at 1-800-922-0716.