It a simple enough idea and perhaps that's one of the things that people like about the new musical Once, which is based on the Indy film of the same name. It's a basic boy meets girl story with an Irish–Czech flair and a cabaret feel. At All Tickets Inc. we feel that Once has quite a different feel than the splash and glamour musicals that epitomize the big, boffo Broadway show and have defined the Great White Way for so long. And that may be one reason why it has captured people's imaginations and garnered 11 Tony nominations. That is the most for any show this season.
The Story
The small film by the same title won the Oscar and it looks as if this relatively small musical may win a few Tonys. Once certainly has a good shot. The story focuses on an Irish musician and a Czech immigrant who are drawn to one another by their shared love of music.

The two spend a week together and in that time as they collaborate musically they find common ground and eventually romance. Their creative musical works are raw and passionate, reflecting their developing love. These are two fated lovers who magnetically redefine one another for a brief moment in time.
Why it's Attractive?
There's something people find especially appealing about this show's ability to reveal and candidly expose love through a musical prism that is hauntingly beautiful. Two human souls are shown as Guy and Girl fall in love through an intimate tale told through exquisite music, beautiful choreography and truthful acting.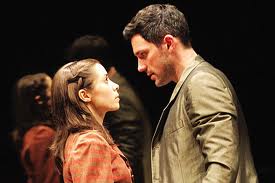 The New York Post was spot on, noting that "Once wins its standing ovations the old-fashioned way: with a love story, great songs, compelling characters and inventive stagecraft. At this point in Broadway history, this feels downright revolutionary."
Going Full Circle
There are no huge special effects in Once. But there is humanity, passion and a story as eternal as the longing of the human heart. This is a Broadway musical that has captured the hearts of all who see it. There are a lot of wonderful shows on Broadway but it seems as if Once has gone beyond all expectations.
The cast is stunning, the stagecraft executed with precision and the music wholly captivating. This is a journey that is making audiences believe again in the power of love in both life and art. All Tickets can book great seats at group discount prices and for extra savings a lovely dinner at a fine restaurant. Make it a special evening for your group—dinner and the new hit musical Once.