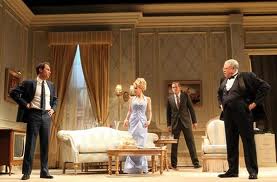 In The Best Man, James Earl Jones offers another rich, powerful performance.What a great role potential presidential candidate William Russell was for Melvyn Douglas in 1960 and what a great role Former President Arthur Hockstader is for James Earl Jones in 2012. In playing William Russell Douglas earned a Tony and Jones is nominated for that same award for playing the fictitious former president in this season's revival of Gore Vidal's The Best Man. This revival, the second major one since it first opened on Broadway in 1960, is scheduled to run with an all-star cast until July 1, 2012. All Tickets Inc. has a range of group ticket prices for this show. The cast includes some of the best actors around such as Candice Bergen, Angela Lansbury, John Larroquette and Michael McKean.
The Original Broadway Show
The Best Man opened on Broadway at the famed Morosco Theatre on March 31, 1960. Although Ronald Regan auditioned for the role of William Russell, Vidal did not think he was very presidential. The role and the Tony went to Douglas. The show, which closed on July 8, 1961, ran for 520 performances.
In September 2000, the first and up to this point only major revival opened on Broadway at the Virginia Theatre. It was directed by Ethan McSweeny, and the cast included Elizabeth Ashley, Charles Durning, Christine Ebersole, Spalding Gray, Michael Learned, Chris Noth, Mark Blum, Jonathan Hadary and Jordan Lage. It ran for 15 previews and 121 performances before closing on Dec 31, 2000.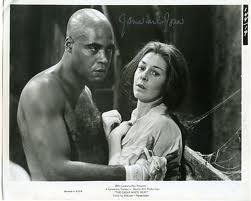 Jones breakthrough role happened on Broadway in 1967 and in the movies in 1970 when he played boxer James Jefferson in The Great White Hope.
The Electricity of The Best Man
Presidential power broking is a fascinating subject especially in a country such as the US, where voters are seen as being such an important force in the election process. But as we see in Vidal's The Best Man there are many behind the scene personages who control the political process that goes into choosing the person who will lead the great republic where officials are elected "by the people."
In the play, five men are attempting to get the presidential nomination with Russell (John Larroquette) and Joe Cantwell (Eric McCormack) being the leading contenders. How far will these men go to get what they want and how will one of the most influential men in the country, ailing former president Hockstader, throw his support? Intrigue, backstabbing, glad-handing, bigotry and hypocritical behavior are all a part of the mix that ultimately results in the best man being chosen.
James Earl Jones
James Earl Jones, who is now 81, has had a magnificent career on the stage, in film and on television. Winner of two Tonys, numerous Emmys and a 2011 Academy Honorary Award, he's an actor who has created numerous memorable characters, including Jack Jefferson in The Great White Hope (Broadway and film), Terrence Mann in Field of Dreams (film) and Troy Maxson in Fences (Broadway).
James Earl Jones played Terrence Mann Field of Dreams. Mann was an angry, aging author who found new vitality on a baseball field in Iowa. His voice has been featured in Star Wars (Darth Vadar), CNN ("This is CNN"), The Lion King (Mufasa) and in many other films, documentaries and commercials.
Jones has an amazingly powerful and resonant voice and offers a tall, intimidating presence. Yet, he's able to create a sincere, gentle energy that makes him vulnerable and loveable. Known for his ability to show range when it comes to creating rich characters and for his technique in playing everything from Shakespeare to O'Neill, Jones has proven to be one of the best actors of his generation. In playing the role of Hockstader, Jones has made the character his own.
Discount Group Tickets from ATI
The Tonys will be held June 10 this year. The Best Man is in a limited run until July 1. All Tickets Inc. can create a value-based package for your group that includes tickets and dinner. Also, if you require accommodations, bus service and/or want to see and experience more of NYC and the surrounding area, All Tickets will ably assist you with each and every one of your needs. Contact us via the web or call 800-922-0716 for more assistance or to make a booking.