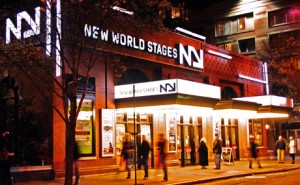 Off-Broadway theatres like New Work Stages offers groups great shows at low prices. Plus, because Off-Broadway venues are smaller than Broadway theatres (with capacities from 100-499) there's not a bad seat in the house. Some shows that start out Off-Broadway transfer to Broadway and some Broadway productions eventually make their way to Off-Broadway. Off-Broadway is often attractive to producers as the smaller venues translate into lower budgets. How good are Off-Broadway shows? They are high caliber productions with great scripts, fine actors (many of whom are renowned on Broadway and in film) and topnotch directors.
The Big Difference
Probably the biggest difference between Off-Broadway and Broadway is that there is less spectacle Off-Broadway. Smaller, simpler theatre spaces and lower budgets and tickets prices translate into shows that don't require big special effects. Often this means that Off-Broadway shows can be a bit more inventive or they may focus more on scripts that are concerned about character rather than major production numbers. But the quality is supreme Off-Broadway and the diverse theatre experiences offered make it an extremely attractive alternative to Broadway.
New World Stages
New World Stages, which is a theatre complex located on the site of the old Madison Square Garden, serves as a model for the variety that Off-Broadway has to offer and the value that groups can enjoy. New World Stages contains five performance spaces. The complex is a modern theatre facility that offers patrons a wide range of amenities and extras. Group ticket prices through All Tickets Inc. for shows at this venue can be as low as $35- $40. Here's what's playing now at New world Stages.
The Off-Broadway Shows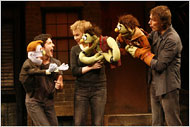 Avenue Q, which started Off-Broadway, went to Broadway and then returned to Off-Broadway, has been running for years at New World Stages and it looks like it will continue its run a lot longer. The irreverent musical with puppets (this is not a children's show) and human actors is hilarious as it focuses on a young man's attempt to create a life in the City.
Peter and the Starcatcher is a highly theatrical show that also started Off-Broadway. It was a big success and with that it moved to Broadway capturing some Tonys and then it came back to Off-Broadway. The show, which looks at how Peter Pan came to be the boy who would never grow up, is high-energy comedy, drama, and adventure.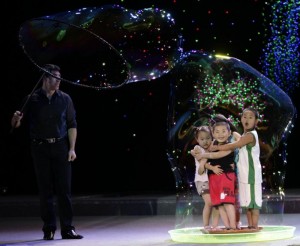 Two other shows at New World Stages are great family fun. The Gazillion Bubble Show is a fantastical journey for young and old in a world that is filled with bubbles of all kinds. There are huge bubbles that wrap around and cover kids, millions of bubbles that fill the stage, and special effect bubbles that will totally intrigue you and the family. iLuminate: Artist of Light takes families on an magnificent adventure as a kind-hearted character goes on a quest to retrieve his magic wand from an evil force. The tale is told without words. Dancers, who are wearing illumination, play the various characters in this stunning movement-based show.
Finally, Amanda Plummer and Brad Douril appear in Tennessee Williams' enigmatic and semi-biographical show The Two-Character Play. Both put in amazing performances in one of Williams' later works which focuses on a brother and sister who are actors estranged from their theatre group. Toether they put on a show within a show, The Two-Character Play.
Great Theatre for Less
Off-Broadway theatres like New World Stages offer first-class shows, including former and future Broadway hits, revivals, and innovative theatre pieces. All are presented in intimate theatres with 100-499 seats (this is the defined Off-Broadway theatre seating capacity). The discounts are sizeable, which means you can really stretch your entertainment dollar by going to an Off-Broadway show. For Off-Broadway group sales contact All Tickets Inc. at 1-800-922-0716.