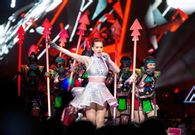 There's a lot of speculation and some confirmed facts regarding Broadway's 2014-2015 season. Questions include will Helen Mirren be on The Great White Way and what musical may Katy Perry appear in? Here's a quick look at some of the latest rumors and news.
Katy Perry
File this under rumor or, at least speculation. It's said that singer Katy Perry is looking to make her Broadway debut in the musical Clueless. But before that happens the musical adaptation has to be completed. The film's screenwriter and director Amy Heckerling is undertaking the musical adaptation of Clueless. She's writing the book and lyrics. No news on who is composing the music.
An enthusiastic Heckerling said to Vulture that pop singer Perry has expressed an interest in the project. The '90s film, which starred Alicia Silverstone, Stacey Dash, the late Brittany Murphy and Paul Rudd, was a hit. The film, which is loosely based on Jane Austen's Emma, focuses on a Beverly Hills high school student named Cher. Cher and her friend, Dionne; together, they decide to help a transfer student, giving her a makeover and playing matchmaker for her. Through the process, Cher discovers that despite her popularity, she herself is in need of a makeover to find the relationship with the person for whom she longs.
Heckerling said, "Katy Perry has expressed interest, and I love her to death." However, Heckerling has expressed hesitation due to Perry's crazy schedule, and she noted, "Maybe Iggy (Azalea) would do it!" Azalea has grromed herself for the role in her hit video Fancy, where she dominates a high school with her Clueless-based group.
When might this project happen? No one is sure. So stay tuned. When we know more, so too will you.
Helen Mirren
Oscar winner Helen Mirren has confirmed that she will start rehearsals in mid-January 2015 for the Broadway production of Peter Morgan's The Audience. The Audience enjoyed an acclaimed West End run in 2013. It is projected to open on Broadway in February 2015. In the play, Mirren plays Queen Elizabeth II. The drama is projected to officially open at a Shubert Theater in March.
The Audience focuses on the life of Queen Elizabeth II from 1952 to her Diamond Jubilee in 2012. The play looks at her private weekly meetings with all of England's Prime Ministers, which were held at Buckingham Palace. Morgan may add Tony Blair, who was not featured in London, to the New York cast of characters.

Mirren in The Audience
More New Shows
More new productions, including new musicals and plays and revivals keep getting added to the 2014-2015 calendar. To read more about the newest Broadway shows, see All Tickets' newsletters. Discover who is playing Anna in the revival of The King and I, when Rob McClure (Jack Singer), Brynn O'Malley (Betsy Nolan), and Tony Danza (Tommy Korman) will be appearing in the new musical Honeymoon in Vegas, and what's the latest on The Ship, the new musical by Sting.