The buzz around the Broadway group sales office is that two more productions are looking at Broadway opening in 2014-2015. They are Side Show, which has been, according to theater executives involved with the production, enjoying a successful run at the John F. Kennedy Center for the Performing Arts in Washington. The other show that may be arriving on The Great White Way is the West End revival of David Hare's Skylight, starring Carey Mulligan and Bill Nighy.
Side Show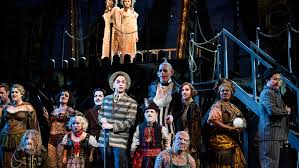 Side Show, which has been around and about for quite some time and as been rewritten for this production, Is a musical about the real-life conjoined twins Daisy and Violet Hilton. The show had a short run on Broadway in 1997. Since that time, it has been revised extensively. The Washington run has received rave reviews. Prior to playing D.C., this version was also seen at the La Jolla Playhouse last year.
Side Show, which is by Bill Russell (book and lyrics) and Henry Krieger (music), ran from October 16, 1997 to January 4, 1998, and was nominated for four Tonys. New York producer Darren Bagert ("Buyer & Cellar," "Of Mice and Men") is trying to generate interest in the project.
Skylight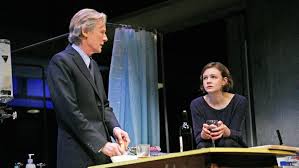 As noted in an earlier blog, there are rumors around about all sorts of productions coming to Broadway, including Katy Perry in Clueless (a musical which has yet to be finished.) This rumor holds a bit more substance. It involves the revival of David Hare's Skylight, which is currently enjoying an acclaimed run on London's West End with Carey Mulligan and Bill Nighy.
Mulligan's major breakthrough occurred when she was cast as Jenny in the 2009 independent film An Education, directed by Danish filmmaker Lone Scherfig and written by Nick Hornby. The film and Mulligan's performance received rave reviews, and she was nominated for an Academy Award, Screen Actors Guild, Golden Globe, and won a BAFTA Award.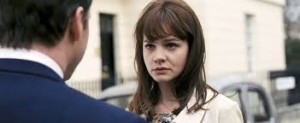 Tony winner and Oscar nominee Stephen Daldry directed the production of Skylight. It's playing a limited engagement at London's Wyndham's Theatre through August 23. Skylight is the story of a teacher, Kyra Hollis (Mulligan), who has an impromptu visit from her former lover Tom Sergeant (Nighy) and his son Edward (Matthew Beard).
Mulligan has appeared in The Great Gatsby, Drive, Wall Street: Money Never Sleeps, Pride and Prejudice, When Did You Last See Your Father?, and Public Enemies. Her first Broadway stage appearance was as Nina in the 2008 production of Chekhov's The Seagull.
Nighy has performed in Hare's Pravda, Map of the World, a previous production of Skylight and a Broadway mounting of the playwright's The Vertical Hour. His film credits, which are numerous, include Love Actually, Wild Target, Valkyrie, The Constant Gardner, Pirates of the Caribbean: Dead Man's Chest, and Harry Potter and the Deathly Hallows.
Contact All Tickets
For information on upcoming Broadway shows, for long run productions, for the latest Tony winners, and for everything Broadway and NYC, contact the group tickets sales professionals at All Tickets Inc. Simply call 1-800-922-0716 and we will be happy to answer your questions and to create a cost-effective itinerary for your group visit to New York City. All Tickets has the Broadway group tickets that you want.