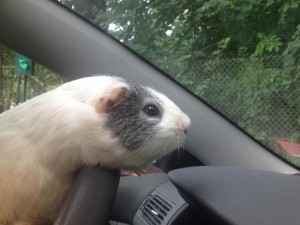 Hello, my name is Nelson Smith, a 3 3/4 year old guinea pig. Over the summer, I moved to a magical place called New York City. The move was pretty wonderful and easy, aside from being listed as a "hamster" on my apartment lease, battling bed bugs and cockroaches, my momma getting shingles and being cranky, and my boss at my old construction job in NH getting mad at me for leaving and cutting my hours down from 40 per week to 30 hours over 4 weeks rendering me financially unstable… It was not so bad.
So here I am, a little guinea pig in the big city. As soon as I get there, I receive a group text from some other guinea pig guy friends: Fluffy, Muffy, Buffy, Gruffy, Huffy, Puffy, Ruffy, Tuffy, and Sam. They say they want to plan a big trip, come visit me in the Big Apple, bring all their dates and have a blast, but felt it daunting to plan such a large trip. So they contacted me since I am highly organized and detail-oriented, and own a sweet air mattress that I use my momma's hair dryer to inflate. I tell them to send me their schedules. They are guinea pigs, so it is pretty open. And there, I begin to plan.
The first step is planning how they get here. In New Hampshire, our form of public transportation is hitching a ride with your neighbor. Miraculously, there are buses. So I use this Wanderu service I read about on the subway to help navigate their buses. Easy enough.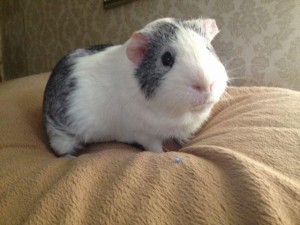 Then I start to look up shows, since many of us are lovers of the theatre. Opening Google, I type in "shows in New York." Apparently, there are over 40 Broadway theatres and over 100 Off Broadway Theatres. They all have different shows, schedules, prices, discounts, etc.
After picking my jaw up off the floor, I decide instead to start with restaurants. Momma and I would go to the same 10 places or so back home, so I figured this would be an easy starting point. Google: places to eat in New York. Why is the screen all red? Oh, it is infested with red dots, each representing a different place to eat. Even when I specified "vegan friendly" restaurants, I was still astounded by the burgeoning number of results! I pick my jaw up from the floor yet again.
Now I am beginning to panic. Momma walks into the room and tells me that there are still some bed bugs and we should not have any more guests over. I will need to find hotels for Fluffy, Muffy, Buffy, Gruffy, Huffy, Puffy, Ruffy, Tuffy, Sam and their dates to stay. With dread, I search Google, see the enormous amount of results, and then proceed to sob into my little paws.
Momma sees me sobbing and asks what is wrong. I explain to her my issue. She tells me that while Google is a wonderful creation, that it is not always best for planning, organizing, and booking large group trips. She tells me about a website called All Tickets Inc. If there is anything I have learned in my sweet, short life, it's that my momma is always right.
As I type in the website name, I am afraid of what will pop up. Then again, I have that fear practically every time I use the internet. My fingers tremble while hovering over the enter key, when suddenly I remember, I don't really have actual fingers.
Enter! Well, this website is cleanly designed and not at all daunting! As I use the Group Discount search engine, I find that I can type in my specifications before browsing huge lists of venues, productions, and individual information! All I have to do is type in when my friends are visiting in the date range, my budget, and even the TYPE of show I would like to see! Wow! Avenue Q! Maybe I should have some of my guy friends bring their kids, it's basically like Sesame Street, right?
Next, I select hotels. Oh yes, "pet friendly" please! And I definitely see some restaurants that will cater to our vegan diet! Boy, do I feel fancy! Next, I send my friends a link to the "attractions" page and have them vote on their favorites to determine where we should visit first. Where to first? The Bronx Zoo? Beast Speedboat Ride? St. John's Cathedral? (Muffy is very religious!)
Next, I call All Tickets Inc at 1-800-922-0716. I tell them, there is so much to do, and so little time! But guess what. They design my itinerary FOR me. I feel so spoiled. I feel so posh. This is what it must be like to live in New York! But without cabs blaring their horns at you, all the muggings, and people urinating on your shoe.
What I liked best about All Tickets Inc:
Easy to navigate, informative website.
Informative articles on their Buzz Stream.
They coordinate everything for me with great group and combo discounts; dinner and a show, a hotel and attractions, etc.
Using All Tickets Inc. saved me a LOT of time, effort, and money.
Joining the e-mail list helps keep me in the loop for new shows I may want to see or upcoming seasonal attractions!
Their travel tools let me know about weather, traffic and travel conditions, and even mobile apps for NYC. Thank you for suggesting Uber and HopStop! As a small guinea pig, it is difficult to walk throughout the city. Especially with the large number of women wearing high heels. And men.
The result? My guy friends and I had a wonderful time. We saw a show, grabbed dinner, and they did not have to sleep on my "Walmart's finest" air mattress. We stayed within our budget, and I did not get a headache from over-planning. We had plenty of time to spend together, and they cannot wait to come back and visit again. Thanks, All Tickets Inc!