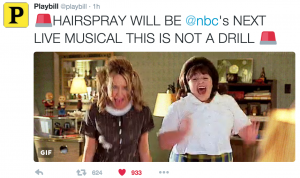 The Playbill twitter was alive and giphy on January 13th about the NBC announcement of Hairspray as their next live musical performance! They shared a gif from the film adaptation with Amanda Bynes and Nikki Blonsky jumping up and down in front of their television set. It was the perfect picture to accompany our excitement of the announcement after the incredible success of The Wiz this past December.
High Hopes
Now the announcement is here, we all begin to wonder how the casting will go! I, for one, hope Edna Turnblad's portrayal is more like the original 1988 film as well as the stage production with the funny, guttural voice. The character in the 2007 film, portrayed by John Travolta, didn't have that same element. Whether or not audiences think the casting is "right," we'll all have different opinions. It does seem that the use of lesser known musical theatre actors has become greater as the live NBC musicals have been getting more popular. Casting actors like Carrie Underwood as Maria Von Trapp in The Sound of Music Live or Allison Williams in Peter Pan Live has become a necessity since producers have acquired a larger musical theatre audience with these famous names.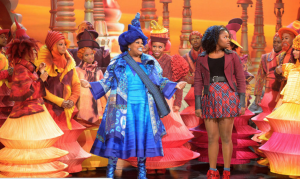 Fairly new to these big performances, Shanice Williams was chosen to play Dorothy for The Wiz! The young actress was a breath of fresh air, especially next to the household names she performed with. We can hope that live musicals on NBC will continue to bring us actors with wide musical theatre backgrounds like that of Uzo Aduba, Stephanie Mills, Christian Borle, Audra McDonald, Kelli O'Hara, and Laura Benanti. We wish we could make a "Fantasy Football" type of dreamcast ourselves for these NBC performances, but ratings and audience size do depend on these big names!
Any Guesses?
If you could cast Hairspray Live for next December, who would you choose? Share your dreamcast with us on the All Tickets Twitter! Which curvaceous Broadway actress do you think should be singing "Good Morning, Baltimore" this year?