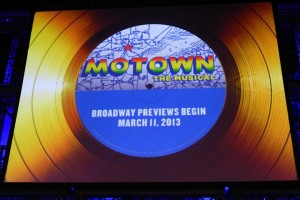 All Tickets has great group discounts and comps for Broadway's Motown the Musical. All Tickets was at the Motown Press Preview—a major event unto itself. Berry Gordy, the founder of Motown, songwriter and record producer, was center stage for the Press Preview that included some of Motown's greats, including Smokey Robinson, Aretha Franklin and the workshop cast of the upcoming high energy Broadway musical.
What's Up with Motown?
Motown The Musical has been more of a rumor than a reality for those in the know on Broadway. In development for years and in secret rehearsals for over a year, the show made a huge splash at its press preview as some of the original stars, Gordy and the cast performed an array of Motown hits, including "Get Ready," "My Girl," "Dancing in the Street," "You Really Got a Hold on Me" and "Ball of Confusion." The group's rendition of "Do You Love Me?" proved to be a humongous hit and Gordy, who has written the book for the new musical, proved to be both enigmatic and magnetic on stage.
What's the Motown Story?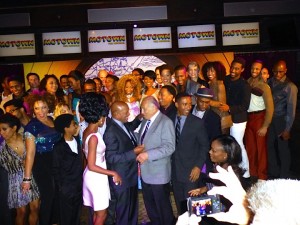 We did find out what Motown is about (at least to a degree). Co-producer Kevin McCollum discussed Motown The Musicals basic plot. The musical will consist of flashbacks that flow from the story's point of attack—1983 with Gordy under fire from discontent artists leaving, lawsuits and the pressure to produce a 25th anniversary special.  The musical reveals important events from Gordy's formative years as a boy growing up in Detroit and moves back and forth from Motown in Detroit to the record company's Los Angeles years. It's a big story about a man who changed the recording industry in America and for black performers.
Motown Tidbits
The musical will feature the romance between Gordy and Diana Ross and will include three new songs by the Motown founder. One of the new songs is an upbeat homage to the great boxer Joe Louis. As much about the Civil Rights Movement and Black History as Gordy himself, the show looks to be expansive, energetic and infectious. The role of Gordy will be played by Tony nominee Brandon Victor Dixon and that of Ross by Valisia Lekae.  Both were in attendance and featured at the Press Preview.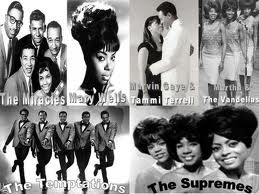 Motown Early Bird Tickets and Comps
All Tickets not only has Early Bird Group Tickets for Motown The Musical, but we also are offering
complimentary tickets to groups
. For every 30 tickets purchased per group per performance, your group receives 1 COMP. (Groups can receive up to 4 COMPS per performance.) These COMPS are only available when you purchase your tickets through All Tickets.
Motown
premieres March 11, 2013 and open April 14, 2013. It looks to be one of the biggest shows on Broadway in years. Call All Tickets today at 800-922-0716 for more information on group tickets, special combination deals, Early Bird Tickets and our exclusive COMPS.