Who do you want to be for Halloween? Many people choose to be someone from a Broadway show. It makes sense since there are so many characters in Broadway musicals and plays that are from the other side or connected to spells, spirits and spooky encounters. Here are some of All Tickets top picks for those wanting to go Broadway for Halloween.
Broadway Opera Styling
If you're looking for a classic, stylized faux opera look then consider going as The Phantom from the longest running show in Broadway history The Phantom of the Opera. Although he is not from the other side, he is exceedingly creepy. Living in the sewers of Paris, abducting beautiful, talented young women and going into fits of extreme anger make Broadway's Phantom a great choice when it comes to Halloween.
Creepy Family Americana
The musical Addam's Family gives just about everyone and anyone a choice when it comes to being a larger than life character. There's the mom, Morticia, and the dad, Gomez. Both are oddly, less than normal with Morticia being instantly recognizable. Wednesday, the daughter, has her own sort of penetrating intensity that is really offsetting.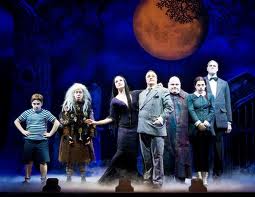 Pugsley, the son, may be the least intimidating; however, if you decide to have him carry around a dead pet that jacks up the weird meter a bit. Lurch, Grandma and Fester are a trio of oddities who are strikingly bizarre. There's nothing normal about them and if you have the right body type you have a good chance of being quite convincing.
The Sexy and the Undead
Dracula is certainly the king of the sexy and the undead. At least as far as ale characters are concerned. Lestat is another male vampire who has that sexy look. Of course, there are vamp characters as well as vampires. The first vamp in the movies was Theda Bara. What's a vamp? She's a woman who is extremely sexy and guaranteed to lead a man down the road to perdition. She's the American version of a Siren. Velma Kelly in Chicago has All That Jazz that makes a woman a vamp, as does Ulla in The Producers who sings When You've Got It, Flaunt It. Dressing as either of these sexy women will certainly get people's attention.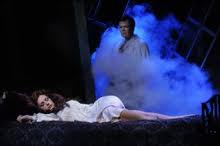 The Famous & Recognizable
Of course you don't have to go as someone frightening, odd or dangerous. You can opt to be a famous character who is instantly recognizable. The list is seemingly endless and eminently diverse. Characters include Pee Wee Herman, Spiderman, Shrek and Mary Poppins. Halloween for many of us is about dressing up and becoming someone else, which is what every actor on Broadway does. So go as The Phantom or as Frankie Vali, become Galinda or Elphaba or transform into the Wizard or take on the persona of Jekyll and Hyde or of Annie. Daddy Warbucks, Chaplin or Elf—the choice is yours. Who do you want to be? Halloween will be here soon. Go Broadway for Halloween.