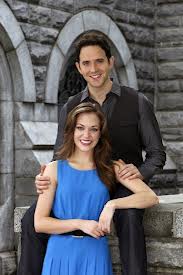 Laura Osnes stars as Cinderella on Broadway with Santino Fontana as her prince.Laura Osnes may be 5' 5" but she's up for playing big Broadway roles such as the lead in the Rodgers and Hammerstein musical Cinderella Broadway premiere. Osnes will create the role on Broadway in early 2013. The Minnesota native comes to the production with some great Broadway credits including Bonnie Parker in the musical Bonnie & Clyde, Sandy in Grease, Ensign Nellie Forbush in South Pacific and Hope Harcourt in Anything Goes. She was nominated for a Tony last season for her performance in Bonnie and Clyde.
Osnes Grease Break
Cinderella star Laura Osnes with Grease co-star Max Crumm.
People first became aware of Osnes and her talent through the reality-TV series entitled Grease: You're the One That I Want. Shown on NBC, the series focused on the casting of the lead roles of Sandy Dumbrowski and Danny Zuko in the 2007 Broadway revival of Grease, which was capitalized at $10 million. Osnes was chosen to play Sandy in the revival, which previewed at the Brooks Atkinson Theatre on July 24, 2007 and opened on August 19.
The New Cinderella
Osnes will get to play a new kind of Cinderella who is quite different than the character played by Julie Andrews, Lesley Ann Warren and Brandy in various television productions of the musical. Playwright and librettist Douglas Carter Beane has rewritten the original book. Set in contemporary times, the character Cinderella is now more involved in solving her problems on her own and in saving the prince.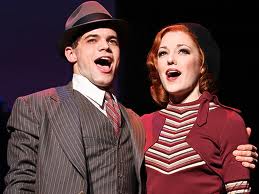 Osnes with co-star Jeremy Jordan in her Tony nominated role as Bonnie Parker in Bonnie & Clyde.
Beane has written the screenplay To Wong Foo, Thanks for Everything! Julie Newmar, and various plays including The Country Club, As Bees in Honey Drown and The Little Dog Laughed, which was nominated for the 2007 Tony Award for Best Play. He was the book writer on the stage musicals Xanadu and Lysistrata Jones. Xanadu, which is an adaptation and parody of the movie musical, won the Drama Desk Award for Outstanding Book of a Musical and was nominated for the Tony for Best Book of a Musical.
The Perfect Choice
Osnes has a pure sounding voice that she controls with aplomb and genuineness. She's able to utilize unique interpretive choices when performing a song. Osnes brings emotion to and through her singing and is able to make an audience feel the emotions of her character in the manner in which she interprets both music and lyrics.

Audiences thought Cinderella's Osnes was perfect in Bonnie & Clyde as she won the Audience Choice Award.
She seems perfect for this version of Cinderella, which offers audiences a new, meaningful take on the most famous fairytale princess in the world. This production of Cinderella requires an actress who can not only put new energy into the lead character, but who also possesses the ability to make us forget the other wonderful actresses who have played the role and engrained themselves in our memories through television.
Along with her vocal and actor/singer skills, Osnes brings a sort of homespun feel to the stage that makes one feel as if she's an Everywoman, while at the same time being beautiful princess material. There's an inner beauty in her that is manifest in her outer being.
Tickets to See Osnes
You won't want to miss Osnes, an amazing talent, as Cinderella. The musical will be on Broadway in early 2013 and All Tickets Inc. is offering a COMP PROMO. For every 30 tickets purchased groups receive 1 COMP (up to 4 COMPS total for each group per performance).
For more information on exclusive Cinderella COMPS from All Tickets contact us via the web or by calling 800-922-0716. Remember that groups save even more by booking restaurants, accommodations and attractions through All Tickets Inc. Get access to all that is wonderful and exciting about The Total New York Experience. Contact All Tickets Inc. today!