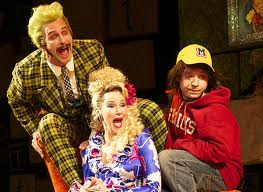 All Tickets, which has group discounts and COMPS for Matilda The Musical, sat down a few months ago with some of the artists who created Matilda. Matilda, won 7 Oliviers and was selected overwhelming as the best musical in London this past season. It was when we were creating our groundbreaking study guide for Ghost The Musical that we had the pleasure to interview Matilda director Matthew Warchus, set and costume designer Rob Howell and lighting designer Hugh Vanstone. Over the years, all three have been involved as a team in numerous hit products and been honored with an array of awards.
Here are some exclusive insights into the art and craft of theatre that these three very active and engaging creatives who are responsible for Matilda The Musical offered All Tickets.
Matthew Warchus
Mathew Warchus, who we highlighted in an earlier Matilda blog, has a long and brilliant resume. Fairly recent projects include directing the trilogy of plays The Norman Conquests at London's Old Vic Theatre and Boeing Boeing at New York's Broadhurst Theatre (Tony nomination for Best Director of a Play). In the 2008-09 Broadway season, Warchus directed two productions. One was the transfer of his Old Vic production of The Norman Conquests, which was highly praised and won the 2009 Tony Award winner for Best Revival of a Play. The other show was the 2009 Tony Award winner for Best Play, Yasmina Reza's huge hit God of Carnage. Warchus won the Tony Award for Best Direction of a Play. It was in 2010 that he directed the acclaimed RSC musical production, Matilda The Musical. That production transferred to the West End in October 2011.
Warchus is a highly creative, innovative director. As a director, he can handle numerous levels of creative thought at once, coordinating elements seemingly at will. He offered All Tickets insights into his process, including how he works with designers.
[vimeo vimeo.com/39088982]
Rob Howell
Set and costume designer Rob Howell and Warchus have worked on numerous award winning productions, including Boeing Boeing, The Norman Conquests and Ghost The Musical. In this clip, Howell, who designed sets and costumes for Matilda The Musical, discusses his working relationship with director Mathew Warchus.
[vimeo vimeo.com/39404856]
Hugh Vanstone
Hugh Vanstone, like Howell, is part of Matthew Warchus' creative team that the director goes back to time and again. Hugh, who has been nominated for Tonys for Mary Stuart and Spamalot, has designed over 160 productions. He has won three Olivier Awards for Best Lighting Designer and was nominated for his work on Matilda The Musical.
In the clip below, Vanstone discusses what he enjoys most about the process of working on a musical.
[vimeo vimeo.com/39263969]
Matilda Coming to Broadway
In April, Matilda The Musical, which offers insights into numerous issues including bullying, will be on Broadway and All Tickets has group discount tickets, including student tickets, at low prices. We also have exclusive COMPS for Matilda The Musical and all shows that are coming to Broadway for the 2012-2013 Season. COMPS for Matilda are only being offered by All Tickets. Contact us for more information at 800-922-0716 or by navigating to our website regarding our time limited COMP PROMO and for extra deep discounts on New York events, experiences, restaurants and accommodations.