He was a legend, an icon and a man of contradictions. Mickey Mantle was a homerun king who battle alcoholism, stardom and physical injuries. He was a huge personality, a hero to kids, a real Yankee and a man who was plagued by demons. Now his sons, Danny and David Mantle, have announced that they have teamed up with award-winning writer/producer David Leaf to start the process of creating a show about The Mick entitled "Dad."
Career
It was 44 years after Mantle retired that the creative endeavor was announced. Mantle, who was born October 20, 1931 and died August 13, 1995, was a hall of fame player who was a 20-time all-star, was n seven championship teams and a three-time MVP. In 1956, he won the Triple Crown. Mantle finished with a batting average of .298. He had 536 home runs, 2,415 hits and 1,509 runs batted in.
Leaf Saw Mantle
David Leaf ("The Night James Brown Saved Boston," "The U.S. Vs. John Lennon" and "Beautiful Dreamer: Brian Wilson & The Story of SMILE"), who as a boy saw Mantle play at Yankee Stadium, is excited to bring "Dad" to the stage. With Leaf, Danny and David will be putting together the creative team.
The Impetus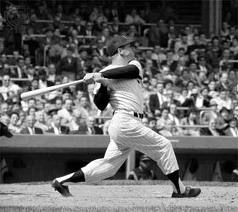 David Mantle explained some of the energy behind the project, noting, "Our mom and dad were both very humble people from Oklahoma. To them, even NYC as a place was beyond any dream they could imagine. I know they would be so honored to know that the story of "The Mick" will be on stage there. "
Danny Mantle observed, "There has been so much written about my dad over the years. When my brother and I met David Leaf, we felt we could work with him to finally tell the real story of who our dad was as a man. Late in his life, dad spoke openly about what he felt were his shortcomings when it came to our family." He added, "The truth is, he gave so much more to all of us than what he, or anyone else, gave him credit for. Now is our chance."
Look for more information on "Dad" in the months to come.