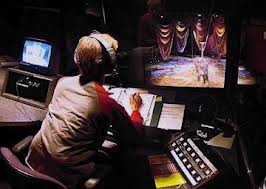 All Tickets Inc. loves theatre speak. The theatre has its own way of saying things. Yes Broadway group sales and discounts are our specialty, but theatre speak and also trivia are our passions. Here are a few more snippets of theatre speak.
Paper Tech
A "Paper tech" in the theatre is a technical rehearsal without any of the members of the tech crew present. Usually it involves the stage manager, director and lighting designer and perhaps other designers such as the scenic. The point of the paper tech is to sit down and go through the show on paper, noting when certain cues will happen. Basically it's done for complex shows to make sure everyone is on the same page prior to going into tech. The hope is that by talking through the show and taking notes that the actual tech will proceed a little more smoothly.
Cue to Cue
The "cue to cue" is a specific type of tech rehearsal in the theatre that includes actors but does not really focus on them at all. A tech rehearsal is one in which technical elements such as lighting, sets and sound are added to a show. This occurs as the production nears previews or opening night. Tech rehearsals are about just that—getting the various tech elements correct so that eventually the show can run seamlessly.
A cue to cue involves skipping moments in the show where there are no technical cues. In other words, you just focus on the moments when a cue is instigated. This can be a slow and tedious process, but it is an important one as it allows the designers, tech crew and stage manager to rehearse their bits and get them right. The "cue to cue" always includes actors but it does not focus on them. They are more or less bodies performing their actions so that the tech elements can be successfully added.
Half Hour
This refers specifically to when an actor must be at the theatre for a performance. The industry standard is 30 minutes. That's the latest an actor is allowed to arrive prior to the start of the show. Of course, there are those who prefer to get there earlier and certainly they may do so. And there are times when companies will allow some actors to get to the theatre after the show begins as long as they check in somehow prior to half hour. When might this happen? A classic example involves any actress playing Olga Katrina in "You Can't Take It With You," as the Grand Duchess does not make her grand entrance until late in the play.
Theatre Speak Savings
All Tickets Inc. has become the theatre speak for group discounts, special comp promos and great saving. We hope you enjoyed this edition of theatre speak. There will be more to come.