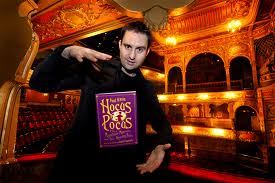 Paul Kieve is the illusionist behind Matilda and Ghost. All Tickets has discount tickets for both and COMPS for Matilda.All Tickets, which has Early Bird group discounts and COMPS for Matilda The Musical, had the chance to talk with illusionist Paul about his art. Kieve is world renowned, having created illusions for numerous stage productions and films. He taught Daniel Radcliff, the perennial Harry Potter, magic, and he created the amazing stage illusions for Ghost The Musical. One thing that Kieve is clear about when it comes to creating illusions on the stage or for film is that there is no such thing as "magic." It is all illusion; that is his job in creating illusions on stage is to make people believe that it is really "magic."
No Such Thing as Magic
Paul, who has been performing magic since he was 13 and is now 41 said in a recent interview, "Magic doesn't really exist. You can't say to an actor, 'Would you show me five different ways you can vanish?'"
That means that whether Paul Kieve is working on Matilda The Musical, Hamlet or Ghost The Musical, he has to invent a way for the actor to disappear or rise into the heavens or transform into a ghost. Of course, it's much different creating illusion for the stage than it is in doing it for film. In our first clip, Paul Kieve addresses the differences.
Illusion on Stage Vs. Film
[vimeo vimeo.com/39102187]
Outside the Box
Paul is a student of illusion and has a great grasp of its history and also knowledge of tricks from long ago. Along with that, he possesses a highly creative mind, a wonderful sense of discover and an inclination towards humor. His work on Matilda and Ghost The Musical is outstanding.
In our next clip, we see Paul having some extra-added fun with a simple paper cup.
A Glimpse of Paul's Sense of Humor
[vimeo vimeo.com/39126536]
Paul Kieve Starting Out
As noted the man who created amazing illusions for Matilda and Ghost started out like a lot of professional illusionists. He was given a magic kit as a boy and the rest is almost 30 years of history. With a genuinely inquisitive nature as a huge asset, Paul Kieve pursued the world of illusion, mastering it.
In our final clip, he talks about how he got involved in illusion.
Beginnings
[vimeo vimeo.com/39109139]
Discounts and Great Illusions
All Tickets is offering COMPS and deep discounts on Matilda The Musical and we also have deep discounts on Ghost The Musical. Matilda arrives in April but our COMP offer, which can only be found at All Tickets, is time limited. Contact us today through our site or by calling 800-922-0716 for more information or to order discount tickets.