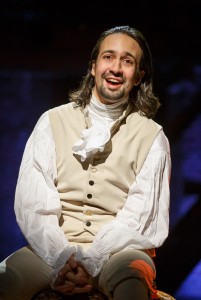 Hamilton, the hip-hop musical by and starring Into the Heights creator Lin-Manuel Miranda is a huge hit Off-Broadway where it presently resides at the Public's Newman Theatre. The run at the Public is sold out through to the end of its May 3 run. But don't worry you'll be able to see Hamilton, as it has been booked to play the Richard Rodgers Theatre where it will start previews on July 16. It opens August 6, 2015 and tickets go on sale March 8.
The Story
This is the story of a man who, at birth, was unlikely to become anyone of importance. Alexander Hamilton was a bastard child born in the Caribbean who was orphaned. Yet, he rose to power to be George Washington's trusted advisor, to become a leading rebel, a major war hero, and to be the man to convince nations that the U.S. would be an economically viable and rich country. He also was a loving husband, who became a fixture in the nation's first sex scandal.
In this new musical, the man who was his best friend, who was also the same man who would kill Hamilton in a duel, Aaron Burr, narrates. Other historical personages included in this musical include George Washington, Thomas Jefferson, Marquis de Lafayette, King George, and Eliza Hamilton.
The Team
Although Lin-Manuel Miranda, one of the primary creators and stars of In the Heights, is a versatile and gifted talent, there are others who are certainly important in bringing Hamilton to the stage. Miranda reunites with In the Heights collaborators Thomas Kail (director ) and Andy Blankenbuehler (choreographer).
Other involved in the process include scenic designer David Korins, costume designer Paul Tazewell, lighting designer Howell Binkley, and sound designer Nevin Steinberg.
Critical Reaction

Aaron Burr's Rap about Hamilton.
The reaction from reviewers has been overwhelmingly positive and they should help to make Hamilton an instant hit when it transfers to Broadway.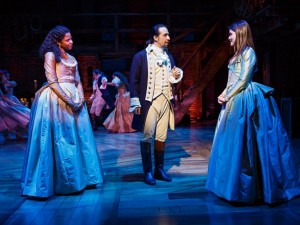 Variety reviewer Marilyn Stasio said "There should be a huge audience for this irresistible show. Although the premise sounds outlandish, it takes about two seconds to surrender to the musical sweep of the sung-through score and to Miranda's amazing vision of his towering historical subject as an ideological contemporary who reflects the thoughts and speaks the language of a vibrant young generation of immigrant strivers. It's a wonderfully humanizing view of history."
Elisabeth Vincentelli of The New York Post observed, "The production itself is sterling, energetically directed and choreographed by fellow "In the Heights" alum Thomas Kail and Andy Blankenbuehler, respectively. And you won't soon forget Brian d'Arcy James' hilarious turn as a smug King George."
From USA Today Elysa Gardner noted, "Live entertainment doesn't get more exciting than this, in any form. So believe the hype: Hamilton is revolutionary in its own right, and an extraordinary achievement."
Broadway's First Hit of 2015-16?
Is Hamilton a preordained Broadway hit? Great reviews, a sold out run at the Public through May, and an instant transfer, make it as much a preordained hit as anything can be. It has not opened on Broadway yet, but chances are when tickets go on sale March 8, there will be a lot of people looking for the best seats possible at the Richard Rodgers Theatre.