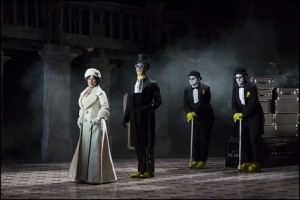 Tony winner Chita Rivera will be on Broadway once again, playing the lead in the new Kander and Ebb musical, The Visit. Based on the modern classic of the same name, The Visit is a dark comedy about an aging, rich woman who returns to her economically depressed hometown of Müllen. The woman, Claire Zachanassian (Rivera), has come back with the promise of helping the town enjoy a new period of economic vitality. She makes a proposition to the citizens of the town, asking them to do something for her. If they perform the act she requests, she will ensure that the Müllen will, once again, prosper.
Modern World Drama Classic
The play, The Visit, is considered to be a modern classic. Written by Swiss playwright Friedrich Dürrenmatt, it premiered in 1956. The play, which is written in the late aftermath of World War II, asks how far one would go to secure financial security. It questions individual morality, investigates group dynamics, and considers the concept of vengeance as well as moral responsibility.
Considering the overall, general theme of the play, which would be the basic idea that money corrupts, The Visit is a perfect choice at a time when Wall Street is seen by some as being an institution that is morally bankrupt and an environment filled with actions that many outsiders question in terms of culpability and moral rectitude.
What is the power of money? Why does it drive people to engage in actions that they normally would not? Does our moral compass go askew due to the allure of financial gain and its benefits? How far would you go to enjoy what many consider to be the good life?
Moral Center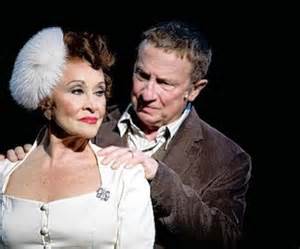 The idea that each of us should have a moral center that guides us is an ancient one. Some believe that religion offers the anchor we need to ensure that we act in a moral manner, while others feel that religious beliefs and practices are not necessary in order for individuals and societies to behave in a moral manner.
The Visit carefully considers various concepts related to morality, including:
The law and its purview
Vengeance as a form of justice
The power of forgiveness
Dehumanization and lack of empathy
The force and worth of cold logic
Still a Comedy
And, yet, despite these important and serious themes, The Visit has a strong comic element that includes highly ironic moments, wit and sarcasm, and situational humor. Like other works by Kander and Ebb, such as Cabaret and Chicago, The Visit is highly humorous and stunningly dark.
Chita Rivera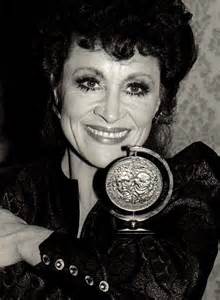 There is no one quite like Chita Rivera. The term "trouper" may have been coined just for her. Rivera, who will turn 82 in January, has had a stellar career. She has won two Tonys and been nominated nine times. On Broadway, she created the role of Anita in West Side Story (1957), Velma Kelly in Chicago (1975), and Aurora in Kiss of the Spiderwoman (1992).
Rivera has shown amazing resiliency. In 1986 when she was performing in Jerry's Girls on Broadway, she was in a serious car accident when the vehicle in which she was riding collided with a NY cab. Rivera broke her left leg in 12 places, and after 18 screws, numerous operations, two braces, and rehab, she came back stronger than ever.
In 2009, she received the Presidential Medal of Freedom and in 2012 appeared on Broadway in the revival of The Mystery of Edwin Drood. Rivera is a performer that audiences cherish. Expect her to be stellar in The Visit.
Spring 2015
The Visit, which includes a book by Terrence McNally (It's Only a Play, Master Class), will open in Spring 2015. It has been performed in numerous venues with Rivera in the lead role, including the Goodman Theatre and the Williamstown Theatre Festival. The musical will premiere in time for this year's Tonys and should be a major contender. Contact us for more information by calling 1-800-922-0716. Great seats and group discounts are available.