The Holiday Season, which takes much of its energy from Christmas, is a special time on Broadway and in NYC theatre. Specific shows focusing on Christmas usually open at some point in November and run until late December or early January. These include annual The Radio City Christmas Spectacular and various other offerings, such as this year's Dr. Seuss' The Grinch Who Stole Christmas.
In recent years we have seen Elf, Peter Pan, and A Christmas Story all make their way to NYC for the Holiday Season. Plus, the week from Christmas through New Year's is often a record-breaking one, as school children, their parents, friends, and extended family members see shows such as Wicked, Aladdin, and The Lion King.
A Different Time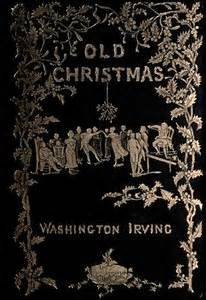 But all of this hustle and bustle and theatergoing is relatively new. Christmas was a time that prior to the mid-19th century was celebrated as a religious holiday separately by many different groups in the U.S. But eventually, what many would later bemoan about Christmas was also what ultimately would make it so popular, its commercialization
Here's a quick look back at what Christmas and associated entertainments were like in the 19th and early 20th centuries.
19th Century: English theatre in the 19th century saw Dickens' works, such as A Christmas Carol, adapted to the stage. Also in England, Pantomimes, shows focusing on spectacle and based on fairy tales, were often a holiday treat. English Christmas Revels, which had a longstanding tradition, were stage shows featuring various types of music and dancing.
1821: The Dutch word "Sinterklaas" for St. Nicholas evolved into the English "Santa Claus. " This was, in part, due to a New York City printer, William Gilley, who published an anonymous poem referring to "Santeclaus" in a children's book. The poem was the first that described a character based on St. Nicholas as having a sleigh. A single reindeer pulled that sleigh.
1823: The poem "A Visit from St. Nicholas", which is also known as "The Night Before Christmas" and " 'Twas the Night Before Christmas" is first published anonymously in 1823. In 1837, Clement Clarke Moore acknowledges that he wrote it.
1832: Charles Follen, Harvard's first German professor, helps popularize the tradition of the decorated Christmas tree to New England. Harriet Martineau, an English journalist visiting Boston sees it and writes about it, spreading the word.
1843: Dickens' A Christmas Carol is first published. American author Washington Irving and Dickens were friends, and at some point Irving writes his essay entitled "Old Christmas," harkening to English holiday traditions.
1850: By the 1850s, Santa Claus and Christmas trees are firmly "rooted" in the U.S. So too was American parlor culture. The parlor was where people gathered to sing, play games, and even perform parlor theatricals, which play publishing houses such as Baker's Plays printed. Holiday celebrations were held during Christmas time in parlors that would include a piano or guitar, and some parlors actually housed small theatres.
1863: German-born cartoonist Thomas Nast has his first of many illustrations of Santa Claus published in Harper's Weekly.
1870: On June 24th, President Ulysses S. Grant signs the bill, making Christmas an official holiday in the U.S. Also included as holidays in the bill were Thanksgiving, January 1st, and July 4th.
1870s: In the U.S., George L. Fox becomes the ultimate performer of Pantomime, creating his piece based on Humpty Dumpty.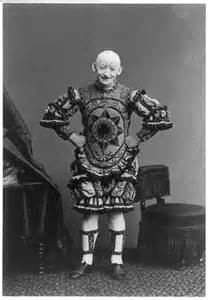 1897: "Is There a Santa Claus?" was the title of an editorial appearing in the September 21, 1897, edition of The (New York) Sun. The editorial, which included the famous reply "Yes, Virginia, there is a Santa Claus", is one of the best known, reprinted, and referenced editorials to ever appear in newsprint.
1899: Ben Hur- A Tale of Christ, which was written by Lew Wallace in 1880, is turned into a play. It runs in New York for 194 performances, opening on November 29, 1899. This play, which was renowned for its spectacle, violence, and reverence to Christ, would be done across America for 21 years.
1903: Victor Herbert's operetta Babes in Toyland opens in NYC on October 13th and enjoys a 192-show run that goes through the holidays and ends in March 1904. Although not a Christmas show, the toy theme, buoyant music, and fantasy mirror the English Pantomime tradition and capture some of the holiday spirit.
1920s: There were holiday themed reviews in New York that were less religious in spirit and more in the celebratory mode of enjoying song, dance, and alcoholic spirits. Popular Christmas songs of the time included At the Christmas Ball (Bessie Smith), The Santa Claus Blues (Clarence Williams), and Lonesome Christmas Blues (Blind Blake).
1924: The first Macy's Thanksgiving Day Parade is held, and, yes, Santa closes out the original event, as he still does today.
1933: On December 21st, the first Radio City Christmas Spectacular was performed. It ran for two weeks. Radio City had opened just one-year prior. The show did and always has featured Santa.
Focus of Popular Entertainments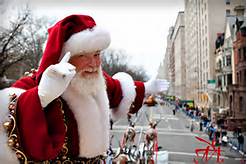 In terms of popular theatre in the U.S., entertainments that focus on Santa and fantasy and on the spirit of gift giving, celebratory festivities, and being close to the ones that you love, are those that have been embraced by both the general public as well as producers.
And although Christmas is a religious holiday, it did not become a national holiday until it was well on the way to being commercialized. Also, by the time it was made a national holiday, the U.S. had survived the Civil War, had seen the completion of the first transcontinental railroad, and was rapidly developing its national identity. Plus, the other holidays signed into law with Christmas in 1870 in that same bill were all non-religious.
What Does It Mean?
What does this mean? Many times people reference the "sprit of Christmas," which includes being bright, cheery, and optimistic. It is probably not by chance that this spirit is embraced during the darkest time of the year, and it makes sense that these days some of the brightest lights in the world, those on Broadway and in NY theatres, are part of that enlightening and lightening experience.