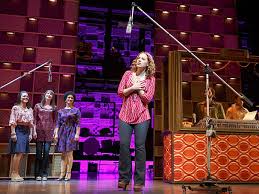 Looking for a great new show to see at low group rates, then you have to get tickets to Beautiful starring the talented and engaging Jessie Mueller. Mueller, who plays King, is a Tony nominee who can not only sing and act, but she can totally entertain and enchant a Broadway audience.
Mueller is King
Although Beautiful is a jukebox musical, with Mueller in the lead role it becomes a very human tale and an intriguing evening in the theatre. This is a Broadway musical that offers high energy, a topnotch musical ensemble, and songs that span generations. King, one of the most successful songwriters and entertainers of her generation, created a rich catalogue of pop hits that included soulful ballads, upbeat rock numbers, and sweet and honest love songs.
How It All Started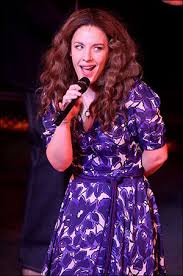 Beautiful offers us insights into how Carol Joan Klein of Brooklyn became international music sensation Carole King. Teaming up with writing partner and husband Gerry Goffin, the duo managed to turn out hit after hit. King's road to stardom included her breakout album Tapestry, which won four Grammies and set a high mark for sales for more than a decade.
King, who has been married four times, had a life that included innumerable twists and turns, and a longtime friendship with fellow artist and much-honored singer/songwriter James Taylor. In 2013, President Barack Obama presented King with the Library of Congress Gershwin Prize for Popular Song Library of Congress Gershwin Prize for Popular Song. She is the first woman to receive this prestigious award.
Get Group Tickets Now
This is the perfect time to get your Broadway group discount tickets for Beautiful. The score includes a huge number of hits, including Will You Still Love Me Tomorrow, Locomotion, You've Got a Friend, Beautiful, and It's Too Late.
The choreography, voices, and pacing are all right on target. Heartfelt, uplifting, and, simply, beautiful, Beautiful with Mueller is a #1 hit Broadway show that is bringing audiences to their feet.
Save More with All Tickets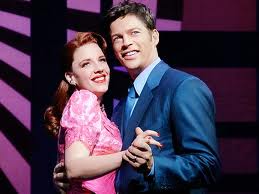 Book your group for the Broadway show Beautiful and also book a restaurant or another experience with us, such as a tour of one of NYC's exciting and interesting neighborhoods, and you'll save more. We excel at creating great group combo deals. Plus, All Tickets has various free helpful guides that you can simply download from our website. Use our NYC restaurant guide to find the perfect dining establishment at the right price, our guide featuring exciting NYC places, sites, and experiences to discover a fantastic, new place to visit prior to the show, and our neighborhood tour book to get insights into our informative and exciting tours.
Contact Us Today
For more information on Broadway discount group tickets to the Carole King musical Beautiful, help in planning your group trip to NYC, or discounts on premium experiences that your group will love, contact All Tickets Inc. at 1-800-922-0716. Our group sales agents are courteous and dedicated to providing you with the best service and lowest possible prices. We will plan out and book your entire NYC visit, including accommodations, Broadway and Off-Broadway shows, visits to historic sites, museums, and landmarks, tours, coach bus service, and restaurants. At All Tickets Inc. we offers New York's total group experience.