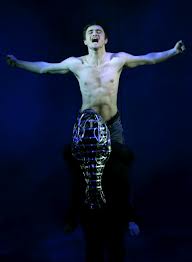 Daniel Radcliffe, who may be best known from the Harry Potter films, will be back on Broadway once again, starring in Martin McDonagh's The Cripple of Inishmaan. Radcliffe, who made his Broadway debut as Alan Strang in the revival of Equus and then his Broadway musical theatre debut as J. Pierrepont Finch in the revival of How to Succeed in Business Without Really Trying, will play Cripple Billy in The Cripple of Inishmaan.
West End Hit
The original production of The Cripple of Inishmaan was a West End hit in London last summer. The critically acclaimed production, which was directed by Michael Grandage (Tony for Best Direction of a Play, Red), had a sold out run at the Noel Coward Theatre.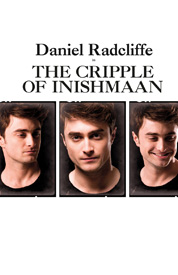 The play, which is set on the remote Irish island of Inishmaan, tells the story of Cripple Billy, a young man who long to escape from the restrictive bonds of his life. When he hears that there's a Hollywood film crew on the nearby island of Inishmore, Billy decides that becoming a part of the movie will be his way out of his tedious, boring existence.
Limited Run
Like many Broadway shows that include film stars, The Cripple of Inishmaan will have a limited run. It previews at the Cort Theatre starting April 12 and opens April 20 with the closing date schedule for July 20, 2014. This marks the first time that a production by the Michael Grandage Company has transferred to Broadway. The company produced five show in London this past year and had a very successful season.
In addition to Radcliffe, the cast for The Cripple of Inishmaan will include Ingrid Craigie (Kate Osborne), Pádraic Delaney (Babbybobby), Sarah Greene (Helen McCormick), Gillian Hanna (Eileen Osborne), Gary Lilburn (Doctor), Conor MacNeill (Bartley McCormick), Pat Shortt (Johnnypateenmike) and June Watson (Mammy).
Combination Deals
All Tickets Inc. has the best group ticket deals for Broadway and Off-Broadway shows. Plus, we offer great combo deals. If your group purchases more than one experience or event for a day or the time you are in New York, we will give you extra discounts. As an example, if you buy group tickets to a Broadway show and also request a reservation at a restaurant for your group, you'll save extra on the already low-priced group dining experience.
All Tickets Inc. can book your group in hotels, at restaurants and into a host of experiences, including NYC tours, museums, historic sites, workshops, maritime experiences and much more.
Get Tickets Now
To order tickets to see Daniel Radcliffe in The Cripple of Inishmaan call All Tickets, Inc. at 1-800-922-0716 or follow this link. We are also presently offering a special deal on complimentary tickets to see James Franco in the revival of John Steinbeck's Of Mice and Men. Franco, who is a Golden Globe winner and an Oscar nominee, will make his Broadway debut in the Steinbeck play in March.