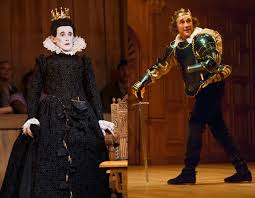 All Tickets Inc. got the news today that the all-male casts of Richard III and Twelfth Night, which features two-time Tony winner Mark Rylance as Richard and Olivia, will enjoy a run extension. The two productions, which were created by the Shakespeare's Globe and played to critical acclaim in London, will run on Broadway through February 16, 2014. Originally, the plays were to close on February 2. But they have been selling out and tickets are in great demand.
All Male Casts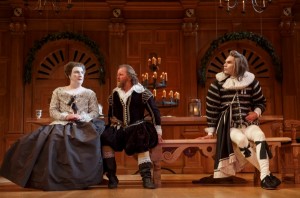 Both Richard III and Twelfth Night are cast entirely with me. Along with Rylance, who has been seen on Broadway in Jerusalem and Boeing-Boeing, are West End cast members Stephen Fry and Samuel Barnett. Other cast members from the London production include Liam Brennan as Orsino in Twelfth Night and Clarence and Lord Mayor in Richard III and Paul Chahidi, who was a 2013 Olivier Award nominee for Best Actor in a Supporting Role for Maria in Twelfth Night; he reprises that role as well as the parts of Hastings and Tyrell in Richard III.
Also associated with the London transfer to Broadway are John Paul Connolly (Antonio in Twelfth Night and 1st Murderer, Cardinal, Ratcliff and Halberdier in Richard III), Peter Hamilton Dyer (Feste in Twelfth Night and Brakenbury and Catesby in Richard III), Colin Hurley (Sir Toby Belch in Twelfth Night and King Edward IV and Stanley in Richard III) and Jethro Skinner (Fabian in Twelfth Night and 2nd Murderer, Messenger and Halberdier in Richard III). There are a total of 19 in the respective casts.
True Traditional Productions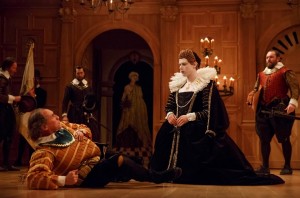 Richard III and Twelfth Night, which opened officially on Broadway on November 10, play in repertory at the Belasco Theatre. Both plays, which are directed by Tim Carroll, are done in what may be the most traditional manner possible. Along with men playing every role, the setting recreates the textures, colors, and true ambience of an English great hall, where plays such as Shakespeare's were performed. The costumes are made from period fabrics and utilize laces, hooks, and buttons.
There are boxes on either side of the stage, replicating that convention from Shakespeare's day, and there are a minimal number of electric lights used, with candlelight being preferred. There are a lot of candles on stage. Finally, there is no sound amplification. That's right, it is a rarity on Broadway, but this really is totally live theatre! No microphones please, only the real sound of the actor's voices and live music and sound effects.
A Rich Production
The productions of Richard III and Twelfth Night now playing on Broadway are extremely rich in every manner. All Tickets Inc. has group tickets available for two of the most popular shows of the 2013-2014 season. Call us at 1-800-922-0716 for group tickets to this extended run. Great for any theatre group and especially for school groups, these two productions define the essence of live theatre, as well as Shakespeare.