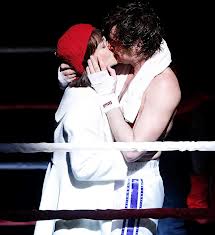 Here's what is in previews and about to open on Broadway. Broadway group sales are focused this week on some very big musicals. Of course, each show is hoping to be noticed by the Tonys and stay on Broadway for years to come. With spring just around the corner, Broadway group ticket buyers are looking for the next hit musical.
Rocky, The Musical
Rocky, The Musical, which is based on the Sylvester Stallone Oscar-winning movie, is currently in previews on Broadway. Hot off a successful run in Germany, where the musical had its world premiere, this is a massive show that features a magnificent and enthralling fight scene.
Rocky is the story of an aging boxer who gets his chance at the big fight when Apollo Creed, the champion, challenges him. Although it's a publicity stunt and in many ways Rocky becomes a subject of ridicule, the challenger, a boxer with a heart of gold, is determined to prove himself by going the limit with Creed. The fight ends in a draw, which means Rocky has proven himself and Creed keeps the title. Of course, Rocky gets the girl, Adrian, in the end. It is a feel good musical in everyway.
Included is a new score with music by Stephen Flaherty and lyrics by Lynn Ahrens. The book is by Thomas Meehan. By the way, the popular theme songs from the movie are also included. Rumors have the big production in Germany cost more than $20 million. The show opens at the Winter Garden on March 13, 2014. Contact us for group ticket sales to this new musical.
Disney's Aladdin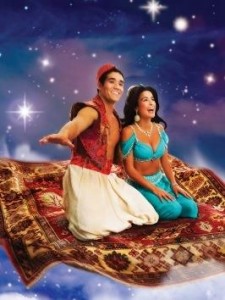 The hit animated movie looks to be a hit musical as Aladdin and his flying carpet take up residence at the New Amsterdam Theatre in late February when it previews. The show, which has been worked and reworked while on the road, will open on March 28, 2014.
Featuring grand special effects, romance and adventure, and a whole lot of comedy, Aladdin is a great show for family and school groups. The tale of the young man who discovers a magical lantern and a genie who is rather outrageous, comical and magical, is one that is thoroughly entertaining.
Aladdin includes music by Alan Menken, lyrics by Chad Beguelin, Howard Ashman and Tim Rice, and book by Chad Beguelin. It's a high-energy, pull-out-all-stops musical that looks to be a big time winner.
The Next Big Hit
Catch the next big hit Broadway musical and get group tickets to one of the shows opening in March and April. The cut off date to be considered for the Tonys is late April and all of the shows above should be eligible. For more information on these Broadway shows and anything on Broadway and Off-Broadway contact All Tickets Inc. at 1-800-922-0716. Our courteous and knowledgeable Broadway group sales agents will be happy to help you.
In our next blog, we'll look at two more new musicals that will open this spring and a major revival of one of Broadway's most loved shows.