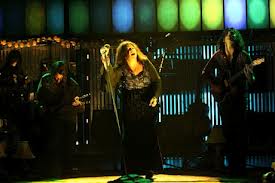 Mary Bridget Davies brings her show A Night with Janis Joplin to Broadway tonight. It's opening night for Davies who has been performing as Joplin across the country to sold out houses and critical acclaim. When you see this show it is as if Davies is channeling Joplin. The Queen of Rock, who was also known as the Queen of Psychedelic Soul, died October 4, 1970. That was 43 years ago but her definitive versions of "Me and Bobby McGee," "Mercedes Benz," and "Piece of My Heart" still live on.
Joplin charted five singles, with "Me and Bobby McGee" being her only number one hit. She was a popular act at the Monterey Pop Festival and one of the defining, iconic acts at Woodstock. Joplin died at the age of 27 of heroine overdose just 16 days after Jimi Hendrix, who was also 27, died of an overdose from the same drug.
More than a Concert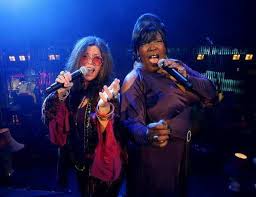 The musical A Night with Janis Joplin is part concert and also part character journey. It includes an amazing array of blues, psychedelic rock, and jazz-inspired songs as well as tuneful ballads. Other styles that were a part of the Joplin repertoire and included in the show are country, acid rock, folk, and hard rock. Davies captures Joplin's voice, mannerisms, and soul in every way, making A Night with Janis Joplin a memorable and remarkable journey for audiences.
Joining Davies are cast members Taprena Michelle Augustine (The Book of Mormon), Tony Award nominee De'Adre Aziza (Passing Strange), Allison Blackwell (The Gershwin's Porgy and Bess) and Nikki Kimbrough (Dreamgirls). They play "The Joplinaires" in the show, serving as backup singers and also playing the roles of various singers who influenced Joplin as a performer.
What to Expect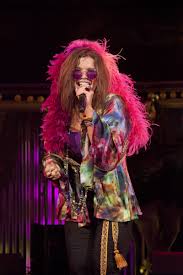 Davies as Joplin at the Lyceum Theatre will give you a great night of music and also a fantastic performance as Pearl (as Joplin was known to her friends). The show and Davies have won critical acclaim across the country.
Davies received the 2013 Cleveland Critics Circle Award for Best Actress in a Musical and was nominated for a 2013 Helen Hayes Award for Outstanding Lead Actress in a Resident Musical. The Washington Post noted that Davies produces "a version of the Joplin screech that starts somewhere around the singer's ankles, wends its way up into the back of her throat and shoots off into the farthest reaches of the theater."
Group Tickets for Joplin
Contact All Tickets Inc. for group tickets sales to the Broadway musical A Night with Janis Joplin. The show is selling quickly. It looks like a big hit is about to open tonight at the Lyceum. Don't be left out of this one. A Night with Janis Joplin is revelatory, uplifting, mesmerizing, and moving. It's simultaneously dark and psychedelic, reflecting the extremes of Janis Joplin's tempestuous, short, and highly creative life. New musicals like this are rare to find.