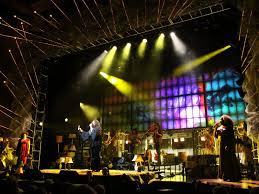 All Tickets Inc. group sales agents have great group rates for all new Broadway productions, including A Night with Janis Joplin, Waiting for Godot and Pinter's Betrayal and No Man's Land. All four of these shows are on the boards in October. Plus, there are many more new musicals and plays and revivals opening and previewing next month. Broadway is brimming with talent and a buzz with high expectations for this new theatrical season.
New Musicals
A Night with Janis Joplin is one of many new musicals getting ready to open. Mary Bridget Davies brings her celebrated performance as the Queen of Rock and Roll to the Great White Way with opening night scheduled for October 10. This jukebox musical offers plenty of Joplin tunes while offering insights into the rock star as a person and a performer. This is a rocking musical and Mary Bridget Davies is spectacular as Joplin.
If you're looking for a musical comedy, then the lighthearted and rather macabre A Gentleman's Guide to Love and Murder may be perfect for your group. A Gentleman's Guide to Love and Murder, which previews October 22, tells the story of Monty Navarro, a commoner in the U.K., who finds that he can move up the food chain if he can simply get past the eight others in front of him who are set to inherit the Earldom of Highhurst. Murder seems to be the perfect solution to his dilemma. A Gentleman's Guide to Love and Murder, which is by Robert L. Freedman and Steven Lutvak, is directed by Darko Tresnjak.
Pinter Plays Broadway
Get Broadway group tickets for Harold Pinter's Betrayal, starring Daniel Craig (Robert), Rachel Weisz (Emma) and Rafe Spall (Jerry). Betrayal is directed by ten-time Tony winner Mike Nicholas. The play, which starts at the end of the story and works its way backwards to the beginning, is about a married couple, Robert and Emma, and their friend, Jerry. The drama looks at friendship, commitment, and honesty amongst loved ones and focuses on how lies and deceit can destroy any semblance of truth between friends and lovers. The show previews October 1 and opens October 27 for a limited run.
Another Pinter play, No Man's Land, will star Patrick Stewart, Ian McKellen, Schuler Hensley, and Billy Crudup. This Pinter play is set in an enigmatic world that seems to lack definition. In No Man's Land two writers, Hirst (Stewart) and Spooner (McKellen) meet and play out what may be an entertaining charade, a complex trick, or a horrific nightmare. The play twists and turns in various directions and becomes even more complicated when two other men, Briggs, played by Schuler Hensley and Foster, played by Billy Crudup, show up. Previews start October 26.
Waiting for Stewart and McKellen
Another fantastic group ticket experience for Broadway audiences will be Waiting for Godot, which also stars Stewart, McKellen, Hensley, and Crudup. This classic absurdist tragicomedy by Samuel Beckett looks at two friends, Vladimir (Stewart) and Estragon (McKellen), as they try to occupy their time as they wait for Godot to show up. Will Godot arrive? Perhaps their two visitors, Pozzo (Hensley) and Lucky (Crudup) know or perhaps they do not. The show previews October 26.
Get Your Broadway Group Tickets
This is the perfect time to secure your group tickets through the Broadway group sales agents at All Tickets Inc. Contact us at 1-800-922-0716 and we'll be happy to ensure that you get group tickets to the show of your choice. We have group discount tickets for every Broadway show, and if you book meals, accommodations and/or other experiences through All Tickets Inc. we can save you even more money. All Tickets Inc. offers New York's Total Group Experience.