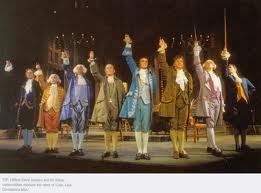 All Tickets, whose innovative group discount ticket offers are leading the way on Broadway, is celebrating July 4th with a look at some great American musicals. The 4th is about fireworks and flag waving and celebrating our independence from Great Britain. It was about controlling our destiny, being able to practice commerce freely and having the power to control our destiny. The 4th defines our nation in every way.
And American musical theatre, a conglomeration of artistic and cultural energies that converged to create a true American art form, also defines us on Broadway, across America and around the world. Show Boat, Okalahoma!, West Side Story, Ain't Misbehavin', A Chorus Line, Jelly's Last Jam, Annie and so many other musicals focus on American themes, tell the stories of our lives and use American musical idioms, phrasing and rhythms and our own special lingo to define the state of our nation at any given time.
Grand Old Flag Waving
George Michael Cohan (George M. Cohan) celebrated the fact that he was "born on the 4th of July" even though he was really born on the 3rd! But for Broadway's ultimate showman that was a mere detail. Broadway is about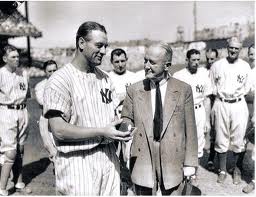 a lot of things and sometimes those elements seem to be in direct contrast to one another. Thus, myth and reality often converge to create a hybrid—a Broadway legend such as George M. Cohan.
Fiercely independent (he NEVER joined Actors' Equity Association), brash beyond belief and with enough energy and talent to fill a Broadway theatre all on its own, Cohan seemed be to singlehandedly responsible for creating the great allure that defined American musical theatre and the Broadway stage.
He wrote over 500 songs, including numerous standards such as "Over There", "Harrigan," "Give My Regards to Broadway", "The Yankee Doodle Boy" and "You're a Grand Old Flag". He started out at the age of eight in vaudeville as part of the family act and eventually took over the troupe and in time took over Broadway.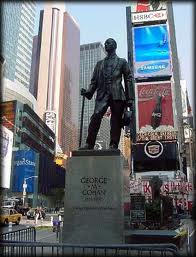 His flag waving musicals included favorites such as Little Johnny Jones, Forty-Five Minutes from Broadway and George Washington, Jr. His comedy The Tavern is a crazy conglomeration of characters that converge on a isolated tavern on a dark and stormy night. It's still a lot of fun.
Cohan was the ultimate American musical theatre artist as he did it all—wrote the book, music and lyrics, directed and staged, starred in and produced the shows, which contained amazing stage effects that he created. He was a showman, a public relations genius and a trouper—an American everyman who gave heart, soul and being to the musical stage.
How great was Cohan? The legendary Broadway showman is the only performer to be honored with a statue in the Crossroads of the World—Times Square. That statue is the result of a behest of $100,000 by one of American musical theatre's greatest lyricists and book writers, Oscar Hammerstein II. It stands in Times Square at Broadway and 46th Street.
The American Dream Musical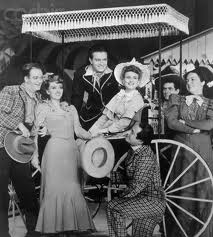 American musicals cover a wide variety of subjects but one of the most popular themes revolves around the American dream. Sometimes these shows celebrate it, other times they spoof it and other times they ridicule it. But one thing just about every one of these similarly themed musicals does is reveal the fragile nature of that dream.
They may end happily, such as Annie or Oklahoma!, with great drama, such as West Side Story or Show Boat or make us pause with wonderment and awe, such as 1776 or Jelly's Last Jam. By the very fact that it exists the American musical is about the American dream. There aren't many bigger dreams in America than making it on Broadway in a musical and being a huge star.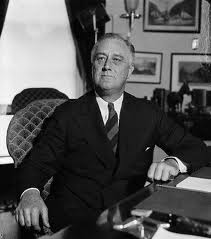 Musicals define who, what, where and if we are through their amazing ability to tell a story through musical, lyrics, dialogue and dance. Hair says one thing about us while Chicago says something else, but both are incisive and terribly honest. Anything Goes portrays certain American types and Carousel reveals entirely different ones. Barnum captures entrepreneurial spirit uniquely, as does How to Succeed in Business Without Really Trying.
But when you come down to it all of these shows and many more are simply about U.S. and us—that great, complex experiment in liberty and freedom.
Independence, Freedom and Power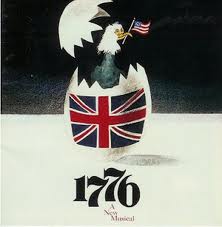 We are a unique nation. In our free enterprise system, each of us has the independence, freedom and power to compete in our commercially driven country. This gives business owners amazing versatility in defining themselves and connecting with the public—their present and potential customers.
All Tickets Inc. has defined itself as a Broadway group discount leader through its value-based programs, including exclusive COMP ticket offers, volume discounts and combo deals, personal service and dedication in ensuring each and every detail of your group's visit to NYC is planned and executed accordingly. When it comes to spending their hard-earned dollars, we offer our customers as much independence, freedom and power as possible. You can always reach us on the web or by calling 800-922-0716. Enjoy July 4th! It's a grand and great day to be an American!