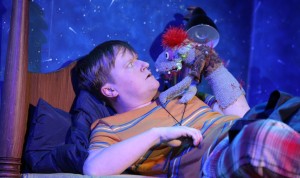 The second half of the 2014-2015 Broadway season includes a diverse group of new plays. There's a lot of excitement with Renée Fleming making her Broadway debut in Living On Love. Also, Larry David, star of the popular HBO comedy Curb Your Enthusiasm, makes his Broadway debut as a playwright and actor in his comedy Fish in the Dark. Plus, there's the dark comedy Hand to God, staring Steven Boyer and the new offbeat drama by Pulitzer Prize finalist Lisa D'Amour entitled Airline Highway.
Living On Love
One of opera's biggest stars, Renée Fleming, makes her Broadway debut in the new romantic comedy Living On Love. The show, which has a limited run, will preview April 1 and open April 30. It's scheduled to close August 2. The comedy focuses on a husband and wife, both of whom are highly accomplished musicians. The husband, Vito DeAngelis, is a self-centered conductor who has hired a beautiful, young woman to help him write his autobiography. His wife, diva Raquel DeAngelis, becomes overwhelmingly jealous of her husband's flirtatious relationship with his ghostwriter. So she raises the stakes and brings in a young, handsome stud to create her autobiography. Relationship sparks fly, emotions erupt, and comedy ensues. Living On Love is projected to be a highly popular show.
Fish in the Dark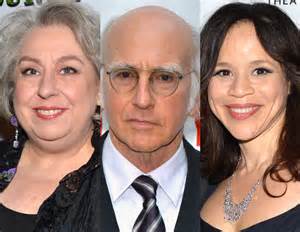 If you love Seinfeld, and especially if you love the irreverent, non-pc, TV-comedy Curb Your Enthusiasm, then Larry David's Fish in the Dark may be your ticket. Along with writing the play, David will also star. The cast for this comedy, which is inspired by the death of the father of one of David's friends, includes some of the funniest actors you'll see anywhere. The players include Jerry Adler, Jake Cannavale, Jayne Houdyshell, Jonny Orsini, and Rosie Perez. The comedy previews February 2 and opens March 5. This is a limited run, which will close on June 14. To this date, the show has over $11 million in advanced ticket sales.
Hand to God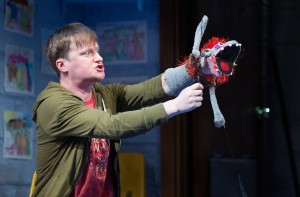 In Hand to God, the character of Jason, played by Steven Boyer, expresses God's word through his hand puppet, Tyrone. At least, at first, it seems to be God's word. But Tyrone is not very innocent or gentle and the question becomes is Jason being taken over by the devil? Tyrone starts to say and do some truly devilish things in this dark comedy focusing on the hilarious and frightening effect that the demonic sock puppet has on those who are dedicated to the Christian Puppet Ministries. Previewing March 12, Hand to God opens April 7; this is a comic tour de force by actor Steven Boyer.
Airline Highway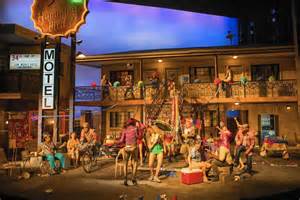 Previewing April 1, Airline Highway is playwright Lisa D'Amour's newest offering. The play takes place in the parking lot of The Hummingbird, a once-glamorous motel on New Orleans' notorious and disreputable Airline Highway, Miss Ruby, a legendary stripper who made the glitzy runways of burlesque houses blaze with sexuality, has aked that her funeral be held before she dies. The collection of lost, diverse, and unusual souls who arrive to participate in her sendoff define her life and, also, certain longings and losses that are a part of all of us. From Steppenwolf Theatre, Airline Highway is an intriguing ensemble drama.
See a Broadway Show
There are numerous musicals and plays opening between February and April. This is the best time to purchase tickets and great prices. For more information on these new productions, contact All Tickets Inc. at 1-800-922-0716 today.