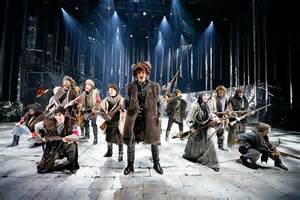 Big Broadway musicals are big risks, but they can also pay off big by becoming so popular that they go into long run mode. Les Misreables, Tommy, and Miss Saigon are some of the musicals that were massive undertakings that paid off in the long run. The musical version of the popular novel and film Doctor Zhivago comes to Broadway in spring 2015. With music by Lucy Simon, lyrics by Michael Korie and Amy Powers, and book by Michael Weller, the show offers audiences both an intimate and panoramic view of Russia during the revolution.
Complications and Romantic Yearnings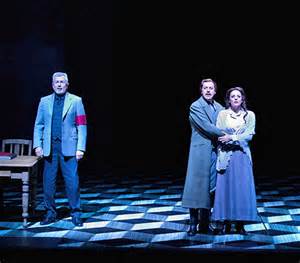 For Yuri Zhivago, a medical doctor and poet, the world is a place filled with passions that he must attempt to understand. The brutality and inhumanity that he sees and experiences angers and confuses him. Zhivago, who attempts to save lives, often sees life's breath wasted, and the doctor who tries to capture beauty in poetry finds that such beauty can be fleeting.
His devout wife, Tonia, is not his true love. It is, rather, Lara, the beautiful woman, who is victimized by others that he worships and immortalizes in his verses. Zhivago, a nonpolitical man who yearns for a simple life, gets caught up in the vortex of the Russian Revolution, and the poet finds himself at odds with the crass, uncaring vicissitudes of a world that is being shattered before his eyes.
Zhivago yearns for the true love that he feels for Lara, and although he finds it to a degree, it turns out to be ephemeral when the harsh realities of war and revolution are felt. His love for Lara may be eternal but his time with her is fleeting.
Capturing the Vast Landscape of the Era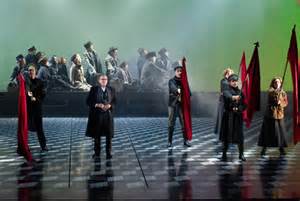 Although Doctor Zhivago is an intimate romantic tale, it is told against an expansive landscape of political intrigue and upheaval, changing mores and scandal, and extreme emotions and human degradation. The stage expands for this musical, while the lighting offers clarity through its focus. This musical is simultaneously massive and minute. As events dwarf Zhivago and the other characters, you begin to understand how deep the doctor's emotions are and how unforgiving life is.
Get Your Seats Now!
Previews for the musical Doctor Zhivago are scheduled to begin at the Broadway Theatre on March 27, 2015 and opening is set for April 21st. This is the perfect time to contact All Tickets Inc. concerning group tickets. For more information on group prices for this musical call All Tickets at 1-800-922-0716. We can help you secure great seats, while also handling bookings for hotels, meals, transportation, and more. Look for Doctor Zhivago to be a contender for numerous Tonys and for this show to be one of the major hits of the 2014-2015 Broadway season. This stunning, exciting, and multidimensional musical will take you back to another time. Plan on seeing it now; don't get left out in the cold!