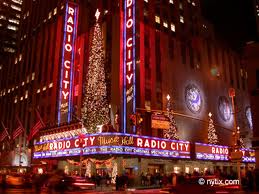 If your group is thinking about coming to New York City for the holiday season, it's certainly time to get it into gear. There are so many great things to do in NYC during the holiday, including exciting shows that run in November and December, opportunities to tour neighborhoods, and special events. There's nothing like New York during this time of the year when the festive lights and decorations make The White Way brighter and better than ever.
Holiday Shows!
There are some fantastic holiday shows in NY, including the Radio City Christmas Spectacular 2014, which features extravagant special effects, gorgeous, rich costumes, and the always engaging and entertaining Rockettes. This is truly an extravaganza! Also in New York for a limited time is the musical Dr. Seuss' How the Grinch Stole Christmas with Broadway veteran Jeff McCarthy as the Grinch. This holiday classic is truly magnificent as a live stage musical, featuring wondrous production elements, first-rate performances, and classic tunes.
By the way, you don't have to see a holiday show during the holidays. You can see another type of show. There's a lot of fine family entertainment on Broadway, including Aladdin, The Lion King, Wicked, Matilda, and Cinderella. Contact us for tickets to these family friendly shows.
Macy's Thanksgiving Day Parade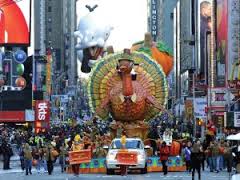 Macy's Thanksgiving Day Parade is an American tradition. Most of us see the parade on television, but there's nothing like catching this big event live. The massive character balloons, upbeat Broadway performances, and marching bands make Macy's Thanksgiving Day Parade a special holiday tradition.
Thanksgiving Day Cruise Dinner
You group can enjoy a special Thanksgiving Day meal and cruise at the same time. Take in the sights and sounds of the City by travelling along New York's waterways, while having a traditional Thanksgiving dinner. Simultaneously serene and exciting, this is a unique way to enjoy this American holiday.
Rockefeller Center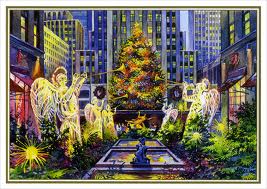 This year the giant Christmas tree at Rockefeller Center will be lit on December 3rd. The event includes live entertainment from 7 to 9 p.m. It all happens at Rockefeller Plaza, between West 48th and West 51st Streets and 5th and 6th Avenues. If you can't make it to the lighting of the tree, you can still enjoy the massive evergreen by visiting the center. The tree will remain lit until January 7, 2015.
NY Botanical Garden Holiday Train Show
The NY Botanical Garden Holiday Train Show is an enchanting experience for young and old alike. The show begins on November 14, 2014 and runs until January 19, 2015. The Train Show is one of the Botanical Garden's most popular events! You'll be amazed at the detail, the accuracy, and the expansive nature of this show that includes replica trains zipping along and through marvelous towns, villages, railyards, mountains and more.
Come to NYC
The holiday season is a truly beautiful and unique time to visit New York. For more information on group travel to NYC during the holidays, including tickets to Broadway shows and special NYC events, discounts on hotels and meals, and group deals on everything New York, contact All Tickets Inc. at 1-800-922-0716.