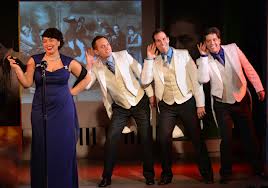 The news is that Disaster!, which is playing Off-Broadway at the St. Luke's Theatre, is a massively funny musical comedy. Also on the radar is a new James Lapine project, which involves adapting a theatre classic, Moss Hart's autobiographical book Act One.
Disaster! is a Winner
Disaster! is a musical comedy that has a lot of fun with two things, the disco era and disaster movies. Or maybe it has a huge amount of fun with one thing- the '70s, which was when both art forms (?) were popular.
Disaster!, which spoofs a range of films, including The Swarm, Earthquake, and The Poseidon Adventure (basically all of Irwin Allen's career) and utilizes some of the biggest hits of the '70s, is a very funny show that goes the limit in satirizing the '70s.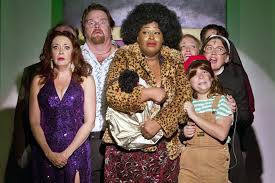 In the musical, a group of A-listers in New York go aboard a new disco/casino boat to celebrate its grand opening. It's all down hill after that for the characters on the hapless ship, which never leaves port, and it's a rollercoaster ride of hilarity for audiences. The ship, which is no luxury liner, but rather, a low class version of the type of craft you may take on a booze cruise, is met with a list of uncompromising challenges, including earthquakes, tidal waves, infernos, killer bees, rats, sharks, and piranhas. It makes Sharknado look like child's play.
If you're in the mood for complete silliness that will make you weak from laughter, while enjoying hit pop tunes such as "Hot Stuff," "I Am Woman," "Knock on Wood," "Torn Between Two Lovers," and more )all sung at inappropriate times), then contact All Tickets Inc. for group discount tickets to one of the biggest new hit musicals in NYC. Disaster! is Off-Broadway at St. Luke's Theatre.
Moss Hart's Story
Exciting news, as writer/director James Lapine is preparing to go into production on his stage adaptation of writer/director Moss Hart's story of how he found success on Broadway. Act One, which is a must-read for anyone in the theatre or who loves it, will star Santino Fontana, Tony Award-nominated for his performance in Cinderella, and Tony Shalhoub, a two-time Tony nominee for Golden Boy and Conversations with My Father. Shalhoub will play Hart.
The show will begin previews on March 20, 2014, and it will officially open on April 17, 2104, at the Vivian Beaumont Theater, which is located at the Lincoln Center Theatre.
Of this new work, the Lincoln Center Theatre says, "Act One, James Lapine's new play from the classic autobiography by Moss Hart, deemed one of the finest books about 20th-century American theater, eloquently chronicles the playwright/director's impoverished childhood and his determined struggle to escape poverty and forge a career in the theater. A path which led to his collaboration with George S. Kaufman and their first great success, Once In A Lifetime."
There's a lot of excitement about this show.
Group Discount Tickets and COMPS
For group discount tickets to Act One and all other Broadway shows, contact all Tickets Inc. at 1-800-922-0716. Also, All Tickets Inc. still has its Extra COMPS Promo running for the new Disney stage musical Aladdin, which comes to Broadway in early 2014.
Order and confirm tickets to Aladdin and get both Producer and All Tickets Inc. COMPS. This offer is ONLY GOOD for tickets ordered through All Tickets Inc. For more information click here or contact All Tickets Inc. Depending on the size of your group, you can score up to 8 free tickets!