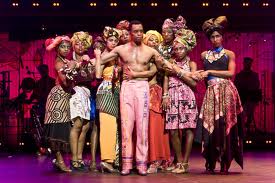 The Tony winning musical FELA! is back on Broadway for a limited time and group discounts are as low as $39.00 for school groups. The musical will play from July 9th through August 4th, at The Al Hirschfeld Theatre and groups of 10 ore more qualify for discount from All Tickets. Plus, for every 30 tickets purchased, you'll receive 1 COMP (up to 4 per performance per group).
Creating FELA!
FELA!, which was first a hit Off-Broadway, was born from the highly creative vision of choreographer/director/writer Bill T Jones. The show's energy comes from the life of the highly controversial and talented artist Fela Anikulapo Kuti. Using the African artist's music, which fused traditional African beats and sounds with jazz and funk, and combining it with extraordinary choreography, Jones creates a story that reverberates with resoundingly diverse energies. He has created a total theatre experience.
The Story
Nigeria, a country of extreme oppression, seething with violence and teeming with poverty, is the setting for this Afrobeat-inspired musical. We are taken on a journey that starts immediately as we enter the theatre, which has been turned into a memorial to Fela Anikulapo Kuti.
It is the 1970s and on stage is the lead character's stage—a nightclub

platform from which he will play his music, fight his political battles and act the bad boy. Fela Anikulapo Kuti was not a simple man. There were huge complexities that composed his personality and Fela! does not shy away from them.
His music is a central thread in this emotional and worldwide journey. He was a man with 27 wives who fought against oppression; he lived in a country ruled by terror and he prospered; and although a world traveler, he held dear to many of his tribal customs. He caused trouble, smoked pot and displayed an immense ego.
FELA! is a theatrical event that is part concert, part celebration, part nightmare and part party. It's beat is ongoing and multifaceted and much of the story is told through a blending of bold narrative, wildly uncompromising dance and amazingly complex music.
Book FELA! Tickets Now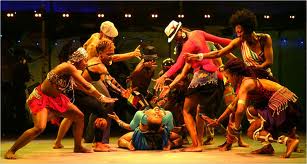 Part history, part biography and part expose', FELA! will take you to places no traditional musical can ever take you. All Tickets can get your group wonderful discounts and we are the only agency offering COMPS to this Tony winning show. This production includes actors from the Broadway and National Theatre production in London. FELA! is a highly theatrical, inspiring musical. Contact All Tickets on the Internet or by calling 800-922-0716.