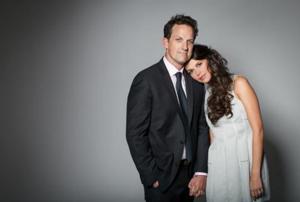 Today, we have information about Sutton Foster tying the knot, a potential revival that had apparently died being revived again, the first previews of the Jewish James Bond play, and an announcement regarding the Roundabout's 2015 season.
Foster and Griffin Wed
Today, October 25, 2014, actress Sutton Foster and screenwriter Ted Griffin were married. The couple, who became engaged in August 2013, were married in Santa Barbara, California.
Foster, a Broadway favorite, has been nominated for six Tonys, winning for Thoroughly Modern Mille and Anything Goes. Other nominations were for her most recent venture, Violet, as well as Shrek, The Drowsy Chaperone and Little Women. Griffin's screenwriting credits include Ocean's Eleven, Tower Heist, Matchstick Men, and Ravenous.
Foster made her TV debut on "Star Search" when she was 15, and has more recently appeared in "Bunhead. She received a TV Critics' Choice Award nomination for "Best Actress in a Comedy Series" for her work on that show. Griffin's TV work includes "The Shield" and "Terriers." They were married in a private ceremony. The question is will this West Coats marriage take Foster away from The Great White Way?
News from The Roundabout
The Roundabout's previously postponed revival of Michael Frayn's farce Noises Off. The show, which is scheduled for December 2015, was supposed to be produced this season, but it was put on hold for the revival of On the Twentieth Century, starring Peter Gallagher and Kristin Chenoweth. Noises Off is to star Emmy and Tony winner Andrea Martin. Previews will begin December 17, 2015 with opening night set for January 14, 2016. This revival will be for a limited engagement; the theatre is still to be determined.
Also recently announced by the Roundabout is the production of the naturalistic saga entitled Thérèse Raquin. The story, which was originally written by Émile Zola, focuses on a young, married woman who is driven to murder her husband so that she can be with another man. The story of lust, passion, betrayal, love, and guilt is a haunting investigation of a desperately motivated woman doing the unthinkable and then being driven mad by her actions.
Oscar nominee Keira Knightley will make her Broadway debut in the title role. The play is a new adaptation of the novel Thérèse Raquin and with Helen Edmundson performing the adaptation. The drama, which is directed by Evan Cabnet, will begin previews on October 1, 2015 and officially open on October 29th. Knightley received an Olivier nomination for her West End debut in The Misanthrope, and she received an Oscar nomination for Pride and Prejudice.
Dugan Starts Off-Broadway Run in Wiesenthal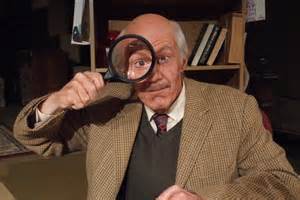 Tom Dugan's play Wiesenthal, which he also stars in, began its run at the Acorn Theatre at Theatre Row last night. Directed by Jenny Sullivan, Wiesenthal, which focuses on real-life Nazi hunter Simon Wiesenthal, runs through February 1, 2015. This marks Dugan's New York stage debut. The play will officially open on November 5th. For more information on Wiesenthal see our Buzz Stream blog and Off-Broadway play listing.