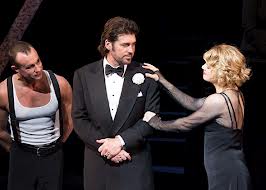 All Tickets Inc., with group discounts and comps for all Broadway shows has the latest stage news. Groups can get comps and big discounts for Chicago, Peter and the Starcatcher and all other Broadway plays and musical. We have three hot New York stage news items. The first is on Chicago's latest cast member, the second on two Peter Pans who recently visited Peter and the Starcatcher and the third focuses on Academy Award winning actress Holly Hunter.
Achy Breaky Chicago
The long-running, Tony-winning musical Chicago welcomes Billy Ray Cyrus to the boards. Cyrus, who gave us the hit "Achy Breaky Heart" and starred on a TV show with daughter Milley, plays attorney Billy Flynn for seven weeks. He'll be in the show until December 23. Cyrus, 51, worked hard learning the part.
During a break he sipped a Red Bull and said, "You can't tire a man out who's already tired, Sometimes you've just got to step up to the plate to learn something new."
Chicago, which is part of the All Tickets all-inclusive and all-exclusive COMP Promo, is the longest running American musical on Broadway. It includes such hits as 'All That Jazz" and "Mr. Cellophane."
Duncan and Rigby Catching Peter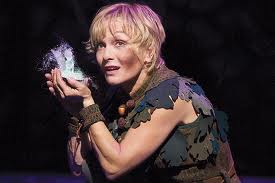 The Matrons of the Boy Who Wouldn't Grow Up have both showed up to see the Tony-winning, hit play Peter and the Starcatcher. Sandy Duncan and Cathy Rigby have both been to see the play, which was adapted from Dave Barry and Ridley Pearson's best-selling 2004 children's adventure book. It tells the story of how an English orphan became Peter Pan.
Of their visit, the man who plays Peter, Adam Chanler-Berat said,"It felt like Peter was out there watching me do Peter. Sometimes, to motivate yourself, you pretend like the person that you're playing is out there in the audience that night and in some ways it felt like that." What did the two female Peters think? Both loved it.
Duncan, who was in the audience on October 11 for the second time gushed, "I can't say enough about it," and Rigby, who enjoyed the show on October 14, observed, "It was one of the best things I've ever seen and I don't usually gush but I'm protective of the part because I love it so much."
Holly Hunter Off-Broadway
Actress Holly Hunter will star in a new play at one of Off-Broadway's Sandy-damaged theatres—the Flea Theater in TriBeCa. She will play in The Vandal, which will be directed by Jim Simpson, the Flea's founder and artistic director. The begins previews January 18 and opens January 31. Ms. Hunter's costars will include Zach Grenier and Noah Robbins. The Vandals is written by Hamish Linklater and is described "as a play about death and vandalism in Kingston, N.Y."
Get Broadway Tickets Now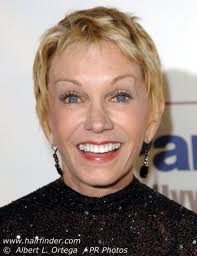 Group discounts
for Broadway and Off-Broadway shows are available at All Tickets Inc. Plus, All Tickets is offering groups complimentary tickets to all Broadway shows when they book and confirm purchases to any performance by December 31, 2012. These comps are from All Tickets Inc. only and are available at the rate of 1 COMP for every 30 paid (4 comps maximum per group per performance).  Catch Peter and the Starcatcher, the play loved by two Peter Pans and Chicago, starring Billy Ray Cyrus. Check out Holly Hunter this January; she's an amazing talent. Contact all tickets at 1-800-922-0716 for the best Broadway and Off-Broadway ticket deals around.