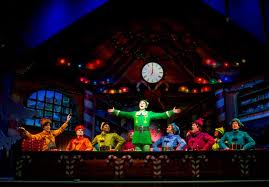 Low group ticket prices for Elf the Broadway musical.Get group discount tickets for newly announced Broadway musicals, plus special COMPS from All Tickets. Three more musicals added to the Broadway season are also now a part of our COMP promo. The three show are Scandalous, Elf and Kinky Boots. All three shows are quite different and one, Elf, is no stranger to Broadway. Here's a preview of each of these shows.
Scandalous
The full title of this show is Scandalous: The Life and Trials of Aimee Semple McPherson. It's based on the real life success and demise of 1920's Los Angeles evangelist reverend McPherson (a.k.a. Sister Aimee).
Scandalous is about Aimee Semple McPherson, the first superstar evangelist. The show features music by David Pomeranz and David Friedman and book and Lyrics Kathie Lee Gifford. This is the first major Broadway musical for the trio.The cast includes, two-time Tony nominee Carolee Carmello as Aimee Semple McPherson and two-time two Tony winner George Hearn as James Kennedy/Brother Bob.
McPherson was the first evangelist to become a media superstar. Although she was ardent in prayer and belief, she also fell prey to her penchant for love affairs. Sister Aimee was a true believer filled with complex emotions and human desires.
This new Broadway musical, which has great prices on group discounts, previews October 13 and opens on November 15.
Elf
Buddy the elf is back on Broadway starting November 6 and running until January 6, 2013. Elf joins A Christmas Story and the Radio City Christmas Spectacular as one of three special holiday musicals offered for a limited run. Elf, which is based on the movie starring Will Ferrell, was a huge hit.
The musical Elf has music by Matthew Sklar, lyrics by Chad Begueliook and a book by Thomas Meehan and Bob Martin. Meehan has won three Tonys and Sklar, and Begueliook were both been nominated or their work on The Wedding Singer. Martin has been nominated for Tonys as an actor and book writer on The Drowsy Chaperone.
Elf is a wonderful show for the entire family. It's filled with fine music and lyrics and has an entertaining and at times touching book. Enjoy the holiday with the lightness and light of Elf.
Kinky Boots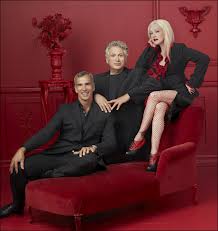 The Kinky Boots creative team of Mitchell, Lauper and Fierstein
Kinky Boots, which is based on the 2005 movie of the same name, features music and lyrics by Grammy winner Cyndi Lauper and a book by Tony winner Harvey Fierstein. Jerry Mitchell, who won the 2005 Tony for Best Choreography for La Cage aux Folles, directs and choreographs.
In the musical, Charlie Price is called upon to save the struggling family business after his father dies suddenly. As Charlie decides to take on the job of rescuing his family's shoe factory, he becomes acquainted with Lola, a female impersonator. Lola is looking for some very sturdy stilettos. Lola and Charlie team up and use some unique creativity to bring the factory back to life, finding that have a truly special bond.
All Tickets Discounts and COMPS
All Tickets not only has great group discounts for these three Broadway musicals but we are also running a special COMP Promo for each show. Confirm your orders for Elf and/or Scandalous by September 30, 2012 and receive 1 comp for every 30 tickets purchased (up to 4 comps per order per show) and confirm your order for Kinky Boots by December 31, 2012 and get 1 comp for every 30 tickets purchased (up to 4 comps per order per show). These COMPS are only available through All Tickets.
For more information or to purchase tickets call All Tickets at 800-922-0716 or contact us on the web. All Tickets offers your theatre group great Broadway shows and THE TOTAL NEW YORK EXPERIENCE.