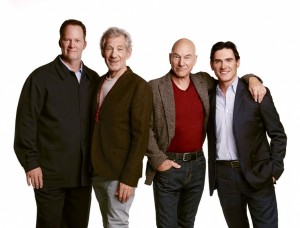 Classic contemporary plays are part of All Tickets comp list for groups purchasing Broadway discount tickets from our group sales agents. Get comps for Betrayal, Glass Menagerie, and No Man's Land. These are three exceptional plays that are being revived on Broadway. And only from All Tickets will you receive free tickets if you are a tour group of 30+ or a student or educator group of 25+. Tour groups receive 1 comp for every 30 paid (limit 4 per group per performance) and student or educator groups are given 1 free ticket for every 25 paid (limit 4 per group per performance).
Great Broadway Theatre
Broadway theatre is the greatest in the world and Broadway group discounts are a great deal. Add free tickets into the mix and that means you're going to see plays by two of the most important playwrights of our age, Tennessee Williams and Harold Pinter, in premium productions.
The Glass Menagerie is Williams tells the story of Tom Wingfield, his mother, Amanda, and his sister, Laura. The semi-autobiographical play is poetic, haunting and moving. Set just prior to World War II, The Glass Menagerie offers insights into family, love, and responsibility.
British playwright Harold Pinter offers us No Man's Land, which is set somewhere in time and place where experiences and knowledge are hard to recount. This absurdist, surreal play raises probing questions about reality, memory and our very existence. Pinter also gives us a play about deceit. In Betrayal, the plot unfolds backwards in time as a best friend of a wedded couple ends up being the ultimate deceiver.
Fantastic Teaching Opportunities
What an opportunity teachers have to bring their classes to see The Glass Menagerie on Broadway and then discuss the play and the production. Of course an audience talk back with cast members is an ideal experience for groups. No Man's Land offers students and teachers the opportunity to consider the influence of Theatre of the Absurd on the stage and our lives and to see two of the finest British actors of this century, Ian McKellen and Patrick Stewart. Pinter's drama Betrayal provides teachers with a great sounding board to discuss everything from play and story structure to relationships.
Great Stars
The stars are out in all three shows as the amazing Cherry Jones plays Amanda in The Glass Menagerie. Jones is a truly brilliant actress. The cast of Betrayal is fantastic with Daniel Craig as Robert, Rachel Weisz as Emma, and Rafe Spall as Jerry. Joining McKellen and Stewart in No Man's Land will be Billy Crudup (Foster) and Schuler Hensley (Briggs), making for an all-star cast.
For more information on these shows, our comp promo, and great group deals call All Tickets Inc. at 1-800-922-0716. Call soon as our comp promo ends on September 30, 2013!