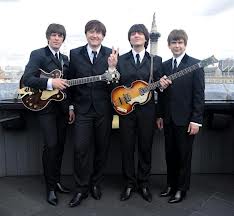 Broadway group ticket sales this fall for Let It Be, A Night with Janis Joplin and Beautiful- The Carole King Musical are expected to be brisk. Ever since Hair and Godspell took to the New York stage rock has been a popular Broadway genre. These days long run shows like Mamma Mia, Jersey Boys and Rock of Ages continue to be audience pleasers.
Rock musicals can be a fun cross-generational group experience as the demographic for rock is broad and teens can enjoy The Beatles, Janis Joplin or Carole King on one level and their parents and even their grandparents on another. Here's a look at Let It Be, A Night with Janis Joplin and Beautiful- The Carole King Musical.
Group Tickets & Let It Be
Let It Be is a jukebox show focusing on the Fab Four. Wonderful harmonies, tight arrangements and a grand tour of the Beatle era are all included. The show has been a West End hit and let's face it shows like Let It Be play on that wish that every Beatle fan had. That wish was that the boys would get back together for one last tour or at least one last concert. The Beatles were not a touring band. Unlike many groups once they hot big they pretty much packed it in on touring. (It's ironic that Paul is still touring and giving three hour shows at the age of 71 and selling out in massive venues.)

Let It Be in London.
Of course, The Beatles can never get together again and they will never be young again. (Nor will those of us who remember watching them live on Ed Sullivan.) So a show like Let It Be allows many theatregoers to feel young again and enjoy some immense feelings of nostalgia. Let It Be Broadway group discount tickets and a special limited-time group comp promo are available through All Tickets Inc.
A Night with Janis Joplin
Many are looking to get Broadway group tickets for A Night with Janis Joplin. Mary Bridget Davies, who has played the show in numerous cities across the U.S. and received unanimous critical acclaim, will be on Broadway starting September. Joplin redefined women in rock music with her gritty, sexy performances, hard living lifestyle and outspoken honesty. She didn't perform songs she became possessed by them and during her concerts transformed herself and her audiences. Compare her to someone like Madonna and you realize how genuine and earthy the former was and how artificial and manufactured the latter is.

Washington, D.C. promo for A Night with Janis Joplin.
A Night with Janis Joplin reveals the rock, blues singer through her material, her character and her influences. This is a show designed to capture a performer who uniquely lit up the sky brighter than any other of her generation, burned red hot and then suddenly disappeared into blackness. Broadway group tickets are here for A Night with Janis Joplin. And remember ONLY All Tickets Inc. is offering a special group comp deal for tour groups and student and educator groups for this show and more than a dozen new productions.
Get Group Tickets for Beautiful
Also this fall, Beautiful- The Carole King Musical comes to Broadway. Jessie Mueller (Tony nominee Nice Work If You Can Get It) will play King. Carole King retired in 2012. In the latter half of the 20th century she had a total of 118 songs on the Billboard 100. She gave James Taylor his only #1 hit ("You've Got a Friend") and her album Tapestry set the record for sales and charting. The mark she set for straight weeks at number one on the charts held up for more than 20 years. It was finally broken by Whitney Huston's The Bodyguard album.

Carole King and James Taylor perform "Will You Love Me Tomorrow?"
The Broadway musical Beautiful is the story of King's personal and professional struggles as she became one of the biggest pop music talents the Earth has ever seen. This is a great musical for fans of King and anyone who loves the '50s, '60s, and '70s.
Broadway Rocks with Group Ticket Sales
Contact All Tickets Inc. for Broadway group tickets to these new rock musicals and all Broadway and Off-Broadway shows. Call us at 1-800-922-0716 and be sure to ask about our special comp ticket offer for tour groups of 30+ and student/educator groups of 25+. The Beatles, Janis Joplin and Carole King are all on Broadway this fall- rock on!