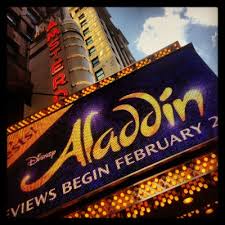 It's the March rush to get shows up and open on Broadway before the Tony Award deadline passes. Nominations are due out on April 29, 2014. They will he aired on CBS on June 8, 2014 at 8 pm with Hugh Jackman as host. In recent years, Neil Patrick Harris has been a huge hit as host. Harris is presently preparing to play the lead in the musical Hedwig and the Angry Inch.
Stage Musical Aladdin Opens
There are a lot of big openings this and next month and Disney's Aladdin happens tonight. Expect a floodgate of of both group tickets sales and single ticket sales as the latest Disney musical, which is based on the hit 1992 animated feature, occupies the New Amsterdam Theatre. The stage musical is directed and choreographed by Casey
Nicholaw and it includes music by Alan Menken and lyrics by Tim Rice and the late Howard Ashman. The book for this stage adaptation is by Chad Beguelin.
The cast features Adam Jacobs as Aladdin. Jacobs has played roles in the national tours and Broadway versions of The Lion King and Les Miserables. Courtney Reed, who plays Princess Jasmine in the musical, has been seen on Broadway in Mamma Mia! and In the Heights.
Act One Adaptation Previews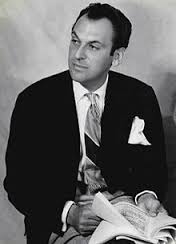 Act One, the James Lapine adaptation of Moss Hart's autobiographical book about his leaving behind poverty and his rise to fame and fortune as a Broadway playwright and director, begins performances tonight at the Vivian Beaumont Theatre at Lincoln Center. Two different actors, Santino Fontana and Tony Shalhoub, both former Tony nominees, will play Hart at different times of his life. Tony winner James Lapine also directs.
Hedwig and the Angry Inch
In less than two weeks, on March 29, Hedwig and the Angry Inch will begin previews at the Belasco Theatre. The musical should make it just under the Tony nomination deadline. Hedwig tells the tale of a transsexual rock singer whose operation and career have both been unsuccessful. This is an off-center musical comedy filled with exotic and eccentric characters. The show should be a tour de force for Harris.
New York in the Spring
It is spring and that means that the big thaw is just around the corner and beautiful weather will soon embrace New York. It's the perfect time to plan your group trip to the theatre, get ready for a quality maritime adventure or to prep to take in the NYC Botanical Gardens or the Garden at the Cloisters. Plus, there's so much more to do, including NYC neighborhood tours and the top of the Rock, and a special bus sojourn across the river to NJ. All of these experiences, plus hundreds more. are available through All Tickets at fantastic group rates. Call us a 1-800-922-0716 for more information on everything New York!