It's been 25 years since we saw a production of My Fair Lady onstage.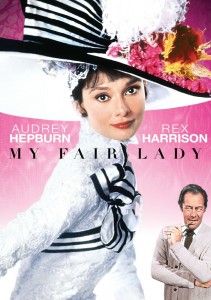 The original production which starred Rex Harrison and Julie Andrews, won 6 Tony awards. The movie was great too, though Marni Nixon had to "ghost sing" for Audrey Hepburn. The newest revival will be opening for previews on March 22nd, 2018 at the Lincoln Center Theatre and Broadway journalists are already speculating about the newest Eliza. Whoever she is…she needs to be someone who can "dance all night!"
"A-E-I-O-U"
The musical, based after the play by Robert Bernard Shaw called "Pygmalion," is about a girl named Eliza who sells flowers on the street. One night she meets a gentleman, Henry Higgins, who mocks her lowly stature and speaking voice. He tells her that he is a linguist and could perfect her language to get her a better job as a real lady. Eliza dreams about the possibilities and then shows up at Henry Higgins' home to ask about the offer.
Higgins agrees to put her up in his home, dresses her like a lady, but treats her like a test subject until the end of the play when he realizes his adoration for her.
One of the great elements of the musical is Eliza's strength. All of the female characters have power regardless of their social stature, but Eliza goes from being treated like a test subject to a woman with a strong mind and a stubborn attitude. The music is beautiful, the story is funny, and the relationships are memorable.
The Creative Team
Directing this revival is Bartlett Sher, recipient of the 2008 Tony for Best Director from South Pacific also at Lincoln Center. Sher will be bringing back his South Pacific team with Scenic designer Michael Yeargan, costume designer Catherine Zuber, and lighting designer Donald Holder.
We can't wait to see who the next Eliza is! Would you go out for the role if there was an open call? Let us know on Twitter!