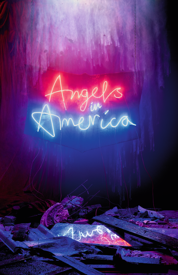 It was recently announced that ticket sales for the 18 week special engagement of Angels in America starring Nathan Lane and Andrew Garfield have begun. To purchase them now, you have to be an Audience Rewards member. But if you're like me and you're not… general ticket sales will begin October 30th and tickets to both parts of the epic story will be sold together. The production comes to Broadway from London's National Theatre marked as a "Gay Fantasia on National Themes."
"The Fastest Selling Show in National Theatre History"
The Neil Simon Theatre will be housing this British transfer starting February 23rd for previews that recently had an entirely sold out run at the National Theatre in London. The original production opened on Broadway in May of 1993. It won Tony awards for Best Actor (Ron Leibman), Best Direction (George C. Wolfe), Best Featured Actor (Stephen Spinella), and Best Play (Tony Kushner).
Set in New York City in the 1980s, Kushner's story has multiple storylines centered around relationships, sexual orientation, and transcendence: "A gay man is abandoned by his lover when he contracts the AIDS virus, and a closeted Mormon lawyer's marriage to his pill-popping wife stalls. Other characters include the infamous McCarthy-ite lawyer Roy Cohn, Ethel Rosenberg, a former drag queen who works as a nurse, and an angel."
"The Sky is Not the Limit"
To see this production at the Neil Simon Theatre, not only do you need to wait for general ticket sales but you also have to plan accordingly. On the Angels in America website, a schedule is available for Part I and Part II performances:
Tickets are sold as a package so each patron sees both parts. You can make your reservation on http://www.angelsbroadway.com/ on October 30th. Don't miss his special engagement production!