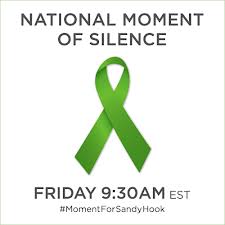 The tragedy occurred one week ago. Today at 9:30, one week to the minute when 20 young and 6 adult lives were taken at the Sandy Hook Elementary School in Newtown, CT., there will be a Moment of Silence. It is an act of solidarity designed to honor those lost, unite those remaining and heal our nation.
Art and Healing
One of the things that art can do is aid healing. Along with donations some schools are creating art towards this healing. As an example, St. Michael Catholic School in Canton, OH, has collected $600 for the victims and an art teacher has worked with students to create a poster with the fingerprint of each student that will make up a bouquet of flowers. The flowers will be placed in a vase along with the signatures of the students.
Art, including theatre, can offer solace, insights and create solidarity and community; thus making us feel that during times of stress, tragedy and unrest we are not alone. Students, parents, siblings, relatives and friends who have experienced unpredicted events that cause distress, rip their lives asunder and make them feel vulnerable, can benefit from expressing their feelings through various forms of art.
Just a Start
The moment of silence that will be observed tomorrow is a small part of what is the start of our healing process. For more than 35 years I have driven past the Newtown exit in CT, never thinking much about that town except for the fact that I often took the exit to get a cup of coffee or refuel my car on my trip back to my hometown in PA. Now I will never see that exit the same way again. It now has a new meaning that is heavy with various emotions. And if I feel that, imagine what the people of Newtown, those who lost dear ones and those who must struggle directly with the consequences must feel?
The healing has begun. It will take years and for some….and some will never be healed. But there's hope after this tragedy because most of us are not like the shooter who took so many innocent lives that day. Most of us are like the victims and that means that we are united in our efforts to heal and to try to ensure that such events become a part of our past and not of our future.
Please remember Sandy Hook tomorrow with a moment of silence at 9:30 am ET.