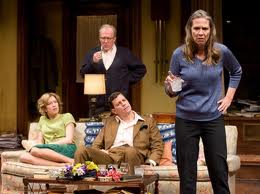 The new production of Edward Albee's Who's Afraid of Virginia Woolf? will premiere on October 13, 2012, exactly 50 years to the day when it first appeared on Broadway. The cast will be Tracy Letts (George), Amy Morton (Martha), Madison Dirks (Nick) and Carrie Coon (Honey). The production will be directed by Pam MacKinnon. All Tickets Inc. has wonderful group deals and is offering a COMP PROMOTION. For every 30 tickets purchased groups receive 1 comp (up to 4 comps total).
Broadway Debut
The first production of Who's Afraid of Virginia Woolf? premiered on Broadway October 13, 1962, at the Billy Rose Theatre.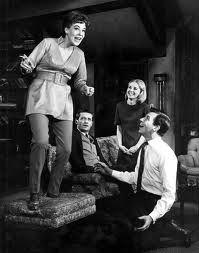 The cast included Uta Hagen as Martha, Arthur Hill as George, Melinda Dillon as Honey and George Grizzard as Nick. Alan Schneider directed the show. It made a huge and fairly scandalous splash. What was this new play? Was Albee an Absurdist as some claimed he was? He'd already created a stir with his one-act Zoo Story. (By the way, both plays are masterpieces.)
The Power of this Drama
Who's Afraid of Virginia Woolf? offers a spellbinding blend of the dramatic and comedic, characters who are driven to the brink and a journey that goes deep into the night and well into what is a vacant morning. It is mesmerizing, moving and shockingly honest. The journey is horrific and yet amazingly funny (at times). The main characters, George and Martha, rarely leave the stage. The play runs about three hours and is three acts worth of a battle with an intensity that is Armageddon-like. Rich dialogue,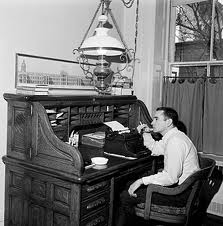 complex motivations and secrets that will be revealed for the first time are all a part of the mix of this dark, dangerous afterhours party. At different times George and Martha send a total of about 30 minutes each off in the wings. It's their show and in the first production of Who's Afraid of Virginia Woolf? both Hagen and Hill were right on target. Here's some audio from the original cast recording of that show.
Steppenwolf Production
This version of Who's Afraid of Virginia Woolf? was first produced by Steppenwolf and it features that same cast and brings along the original director and designers. Look for this show to be exceptionally edgy, dark and outrageous, matching the tenor of the play. For more information on group discounts and All Tickets Inc. special COMPO PROMO click here to contact ATI or call 800-922-0716. In an upcoming blog, I'll offer some insights into Albee from my time as a playwriting student in a special seminar with him at Brandeis University.