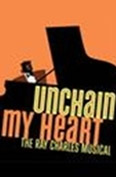 With music by the inimitable Ray Charles and book by the innovative Suzan-Lori Parks, Unchain My Heart recounts the story of the mega composer and entertainer Ray Charles. Using Charles' final live recording session as the pivotal point for this production, the musical includes numerous hits such as "Georgia on My Mind" and the title song "Unchain My Heart" to tell the story of this immensely talented singer-songwriter. Soulful, heartfelt and revelatory, Unchain My Heart celebrates the man and the artist. It is scheduled to open Spring 2013.
Synopsis
Set during Ray Charles' final recording session, Unchain My Heart is much more than a tribute show. With insight, compassion and intensity, it explores the man behind the music. Exuberant, troubled, passionate and talented, Charles, who was blind by the age of seven, would become a legend in the music business.
But despite his success, Charles had numerous problems, including a 20-year addiction to heroine. He beat the addiction in 1966 after being arrested a third time for possession. After he kicked his drug habit, he continued to produce hits and perform. Rolling Stone ranked him tenth on their roster of 100 Greatest Artists of All Time and he was rated second in their ranking of 100 Greatest Singers of All Time.
The much-anticipated show stars Brandon Victor Dixon as Ray Charles, Nikki Renee Daniels as Della, Harrison White as Jeff Brown and Tasha Taylor as Margie Hendricks. Unchain My Heart will feature various songs by Charles such as "Georgia on My Mind," "I Got a Woman," and "Hallelujah, I Love Her So." Director Sheldon Epps, who is the Artistic Director of the famed Pasadena Playhouse, is known as a highly successful television director and for his conception and direction of the Duke Ellington musical Play On!, which received three Tony nominations.
Show Facts
Music and Lyrics  Ray Charles
Book Suzan-Lori Parks
Director Sheldon Epps
Cast
Ray Charles Brandon Victor Dixon
Della Nikki Renee Daniels
Jeff Brown Harrison White
Margie Hendricks Tasha Taylo