Previews Begin: March 9, Opening Night: April 4, 2022

On Broadway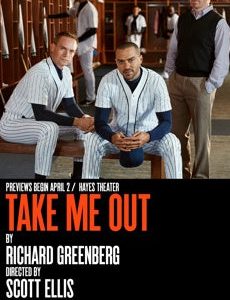 Take Me Out is Richard Greenberg's groundbreaking play and is returning to Broadway!
Show InformationPreview: March 31, 2020 Opening: April 23, 2020 Duration: TBA

Group InformationNo group ticketing information available yet.

CAST

Darren Lemming: Jesse Williams Mazon Marzac: Jesse Tyler Ferguson Shane Mungitt: Michael Oberholtzer Kippy Sunderstorm: Patrick Adams Takeshi Kawabata: Julian Cihi Davey Battle: Brandon J. Dirden Jason Chenier: Tyler Lansing Weaks Rodriguez: Eduardo Ramos Toddy Koovitz: Carl Lundstedt Skipper: Ken Marks

CREATIVE STAFF

Written by: Richard Greenberg Director: Scott Ellis

SYNOPSIS

Take Me Out follows Darren Lemming, star center fielder for the Empires, who reveals he is gay and faces a barrage of long-held unspoken prejudices. Facing some hostile teammates and fraught friendships, Darren is forced to contend with the challenges of being a gay person of color within the confines of a classic American institution. As the Empires struggle to rally toward a championship season, the players and their fans begin to question tradition, their loyalties and the price of victory.