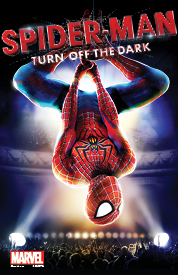 Spider-Man, Turn Off the Dark, with music by Bono and The Edge, is a big musical. This stunning and powerful show features one of Marvel Comics most enigmatic and popular superheros: Spider-Man. The gargantuan musical offers magnificent special effects, major production numbers and music that is at times haunting and other times driving and passionate. Spider-Man, Turn Off the Dark is overwhemling, engrossing and deliberately theatrical, This is a "must see" show.
Synopsis
Spider-Man, Turn Off the Dark is the thrilling, comical and dramatic story of Peter Parker, a geeky guy who becomes a superhero after being bitten by a genetically altered spider. When transformed into Spider-Man, Parker becomes one of the finest fighters of bad guys and villians you'll ever see. His physical abilties are overwhemlingly inspiring as Spider-Man ably defends the innocent from the wicked.
And although there are human elements in Spider-Man, Turn Off the Dark that make Parker endearing, there are impressive arachnid-like characteristics that turn him into a spellbinding hero who utilizes amazing special talents, such as the ability to cast his web and use his tendrils amongst skyscrapers, maximizing his superior strength in ways he'd never before imagined and refining his newly upgraded senses to dominate others. Innovation, technical virtuosity and a penchant to create the spectacular are all key in making this musical come alive on the Broadway stage.
But it's not all big effects and production numbers in Spider-Man, Turn Off the Dark. Spider-Man carries major mental baggage. As it is with those who find themselves transformed into superior beings, Spider-Man realizes that his new superpowers can destroy at will and that means that he has a responsibility to society. The unremarkable Peter Parker is now the very remarkable Spider-Man, and he must be mindful of that.
Spider-Man, Turn Off the Dark is a major Broadway event. Get your tickets today!
SPIDER-MAN ON THE GREAT WHITE WAY
http://www.youtube.com/watch?v=WDGNimK0TUk
MAKE A CONNECTION
ATI Blog: See our blog for information on Broadway shows
ATI Pintrest: Enjoy our Broadway boards at Pintrest.
ATI Facebook: Go to Facebook and "Like" us!
SHOW FACTS
Cast
Peter Parker Reeve Carney
Mary Jane Watson Rebecca Faulkenberry
Green Goblin/Norman Osborn Robert Cuccioli
Arachne Katrina Lenk
J. Jonah Jameson Michael Mulheren
Uncle Ben Ken Marks
Aunt May Isabel Keating
Emily Osborn Laura Beth Wells
Flash Matt Caplan
Boyle/Busker Dwayne Clark
Kong Luther Creek
Creatives
Book Julie Taymor, Glen Berger and Roberto Aguirre-Sacasa
Music and Lyrics Bono and The Edge
Original Direction by Julie Taymor
Director Phillip William McKinley
Additional Choreography Chase Brock
Choreographer Daniel Ezralow
Set Designer George Tsypin
Costume Designer Eiko Ishioka
Lighting Designer Donald Holder
Sound Designer Jonathan Deans
Orchestrations David Campbell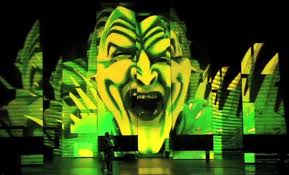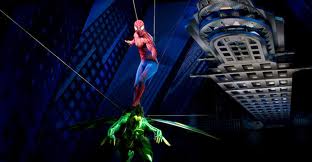 ---
For a Theatre Profile, Seating Chart and Google Map click on the theatre name.
THE FOXWOODS THEATRE
213 West 42nd Street
New York, NY 10036
Preview: Nov. 28, 2010  Open: Jun. 14, 2011 Status: Closed Jan 4, 2014