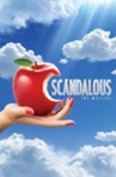 Scandalous: The Life and Trials of Aimee Semple McPherson offers the real-life story of Sister Aimee who was a religious pioneer, hotshot celebrity and eventually a fallen angel, as her scandalous love affairs resulted in her demise. With music by David Pomeranz and David Friedman and book and lyrics by Kathie Lee Gifford, the musical Scandalous provides audiences with a soulful journey through one woman's heaven and hell.
Synopsis
The musical Scandalous focuses on the life of 1920s superstar evangelist Aimee Semple McPherson, who was the first preacher to use groundbreaking media techniques to spread the word about her conservative beliefs and deep religious views.  The Los Angeles based Sister Aimee, as she was known, rose to the highest heights of popularity, only to be brought down be her lust for love affairs.
Scandalous is an interesting character study of a woman who was driven to save souls, loved the spotlight and the crowds and was immensely human in her need for affection. The musical offers insights into McPherson, our society and the media.
SCANDALOUS SCOOP
http://www.youtube.com/watch?v=CKied_CGsmY
MAKE A CONNECTION
ATI Blog: See our blog for information on Scandalous.
ATI Pintrest: We have a wonderful Broadway theatre board.
ATI Facebook: Go to our Facebook page and "Like" us!
SHOW FACTS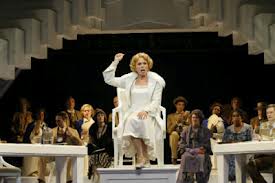 Aimee Semple McPherson  Carolee Carmello
James Kennedy/Brother Bob George Hearn
Robert Semple/David Hutton Edward Watts
Emma Jo Schaeffer  Roz Ryan
Harold McPherson/Kenneth Ormiston  Andrew Samonsky
Creative
Music  David Pomeranz and David Friedman
Book and Lyrics Kathie Lee Gifford
Director  David Armstrong
Choreographer  Lorin Latarro
Set Designer  Walt Spangler
Costume Designer  Gregory A. Poplyk
Lighting Designer  Natasha Katz
Sound Designer   Ken Travis
Orchestrations   Bruce Coughlin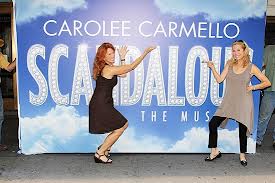 ---
For a Theatre Profile, Seating Chart and Google Map click on the theatre name.
THE NEIL SIMON THEATRE
250 West 52nd Street
New York, NY
Preview: Oct. 13, 2012  Open: Nov. 15, 2012 Status: Closed Jan 9, 2012