This Show Has Ended.

You are looking at a listing for a show that is no longer running.

On Broadway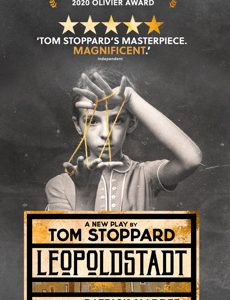 TOM STOPPARD returns to Broadway with his critically acclaimed, Olivier Award-winning new play, the humane and heartbreaking 'LEOPOLDSTADT.'
Show InformationPreviews: September 14, 2022 Opening: October 2, 2022 Duration: 2hrs No Intermission

Group InformationGroup Minimum: 10




CAST

Nathan/Ludwig: Brandon Uranowitz Eva: Caissie Levy Pauli/Young Nathan: Anthony Rosenthal Hermann: David Krumholtz Emilia: Betsy Aidem Nellie: Tedra Millan Jacob/Percy: Seth Numrich Civilian/Mohel: Corey Brill Poldi: Gina Ferrall Willa/Rosa: Jenna Augen Gretl: Faye Castelow Hannah: Colleen Litchfield Ernst: Aaron Neil Otto: Japhet Balaban Kurt: Daniel Cantor Hilde/Hermine: Eden Epstein Fritz/Leo: Arty Froushan

CREATIVE STAFF

Written by: Tom Stoppard Director: Patrick Marber Set Designer: Richard Hudson Costume Designer: Brigitte Reiffenstuel Lighting Designer: Neil Austin Original Music & Sound Designer: Adam Cork Video Designer: Isaac Madge

SYNOPSIS

Set in Vienna, Leopoldstadt takes its title from the Jewish quarter. This passionate drama of love and endurance begins in the last days of 1899 and follows one extended family deep into the heart of the 20th Century. Full of his customary wit and beauty, Tom Stoppard's late work spans fifty years of time over two hours. The Financial Times said, "This is a momentous new play. Tom Stoppard has reached back into his own family history to craft a work that is both epic and intimate; that is profoundly personal, but which concerns us all." With a cast of 38 and direction by Patrick Marber, Leopoldstadt is a "magnificent masterpiece" (The Independent) that must not be missed.